HubSpot for Non-Profits: Boost your Impact in 2023 and Beyond
Did you know that nonprofit organizations using HubSpot's inbound marketing tools usually see their website traffic increase by four times in the first year?
And that's not all!
Using HubSpot's marketing automation tools, nonprofits can experience a whopping tenfold increase in leads generated within six months.
These statistics highlight how HubSpot can make a real difference for nonprofit organizations. With its powerful tools and features, HubSpot enables nonprofits to enhance their marketing, fundraising, and volunteer management efforts. By leveraging HubSpot, nonprofit organizations can attract more supporters, increase their impact, and effectively achieve their goals.
Is it appealing to you?
If yes, these are just a few advantages of what HubSpot CRM offers, and we are eager to show you how it may benefit your nonprofit organization. Join me as we explore the world of HubSpot CRM!
Revolutionize your Non-Profit's growth with HubSpot
HubSpot's inbound marketing and sales tools can be powerful assets for nonprofit organizations looking to engage with their target audience. With features such as personalized emails, landing pages, and social media campaigns, there are many ways to use HubSpot as it offers the necessary tools to create effective marketing campaigns and boost fundraising efforts.
This section explores the best practices of how nonprofit organizations can use HubSpot to take their outreach and donor engagement to the next level. So, let's get started!
HubSpot Marketing Hub
HubSpot Website Builder for developing a professional and efficient Website
HubSpot Website Builder is a cutting-edge technology that enables businesses to construct professional-looking websites easily. This sophisticated platform has several tools that enable businesses to generate exciting content, control their website's design and functionality, and measure their website's success.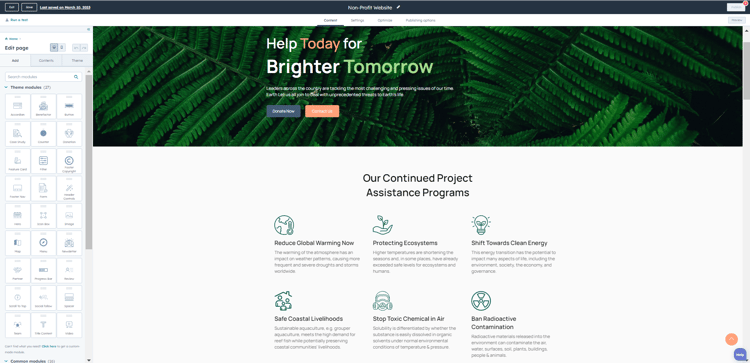 The HubSpot Website Builder's drag-and-drop interface is one of its primary features, allowing nonprofits can use to add and organize components on their website effortlessly. This enables businesses to construct aesthetically stunning websites without any coding skills easily.


The platform also provides a selection of templates from which to pick, making it simple to get started with your website design.


The HubSpot Website Builder's content production capabilities are another significant aspect. A blog editor is included in the platform, allowing businesses to generate and publish blog entries straight from their website. This may be a useful strategy for firms trying to promote themselves as an industry thought leaders and boost website traffic.
Create compelling Lead-generating Pages with HubSpot's Landing Page Builder
HubSpot Landing Page Builder is a robust tool that assists organizations in creating great landing pages that increase conversions. This platform offers a variety of capabilities that enable organizations to develop lead-generation and conversion-optimized landing pages.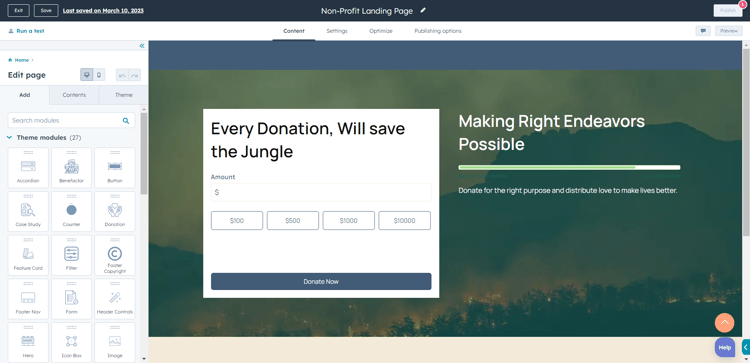 The HubSpot Landing Page Builder's interface with HubSpot's marketing automation tools is a key feature. This connection enables businesses to develop targeted landing pages tailored to each visitor's interests and behaviors.


A/B testing is also available on the platform, allowing businesses to test several versions of their landing pages to identify which is most effective in driving conversions.


The HubSpot Landing Page Builder provides a variety of capabilities for boosting landing page performance in addition to personalization and testing. The platform, for example, provides a form builder that enables organizations to design bespoke forms for lead generation and contact acquisition.


The platform also provides SEO optimization tools, which assist businesses in ensuring that their landing pages are easily discoverable by search engines.
Create engaging, personalized Marketing Emails with HubSpot Email Builder
HubSpot Email Builder is a sophisticated tool that assists organizations in developing efficient email marketing campaigns. This software offers a variety of capabilities that enable organizations to send aesthetically beautiful and engaging emails that increase conversions.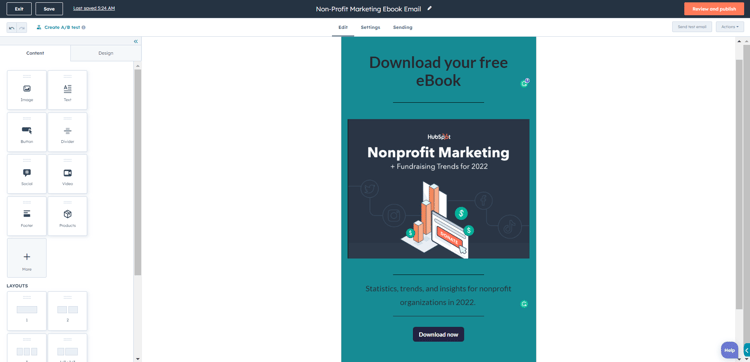 The HubSpot Email Builder offers a subject line tester, which may assist organizations in optimizing their email subject lines for open rates.


The platform also contains a spam checker, which may assist organizations in avoiding typical spam triggers and ensuring that their emails are sent to their intended recipients.


One of the primary benefits of the HubSpot Email Builder is its connectivity with the larger HubSpot ecosystem. The software connects to HubSpot's CRM, making it simple to handle leads and track customer interactions along the sales funnel.


The platform also connects with HubSpot's analytics tools, allowing businesses to track the effectiveness of their email campaigns and other marketing activities.
Optimize and improve your Data-driven Marketing Strategy with HubSpot Campaigns Tool
Engaging your audience with coordinated marketing strategies means communicating with a unified voice, moving your consumer through their journey, minimizing friction, and achieving results. Marketing teams no longer need to waste time jumping between several tools to design and plan campaigns.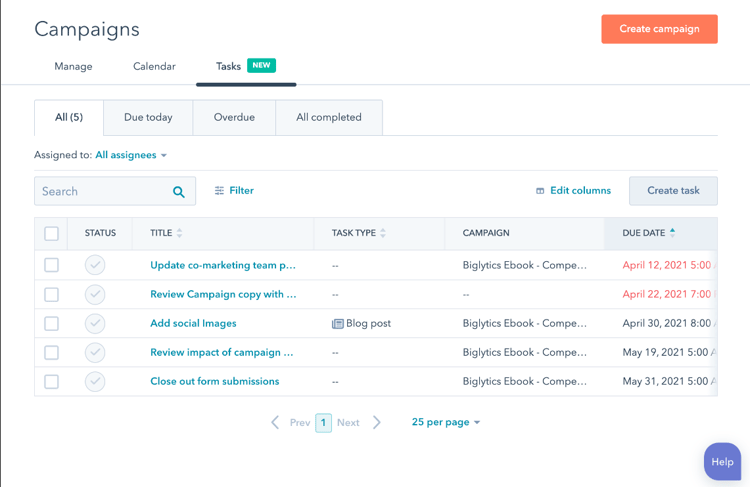 Campaigns are an important corporate development booster. But, even the finest campaign plan in the world can only be implemented successfully with team alignment.
HubSpot's campaign tools provide marketers with everything they need to design, manage, and collaborate on campaigns from a single location.


With built-in collaboration capabilities like tasks, comments, and a calendar, the campaigns tool makes it easy for your team to perform their best job, allowing you to plan your campaigns with context.


HubSpot campaigns provide every team with the ability to monitor, iterate, and optimize campaigns using real-time performance analytics.
Track and analyze your Social Media Performance and ROI with HubSpot Social Tools
Use HubSpot's social media management software to post content to social media from the same place you create campaigns; configure keyword monitoring never to miss a mention; and link all of your interactions to your CRM to have contextual conversations and be able to report on social media ROI.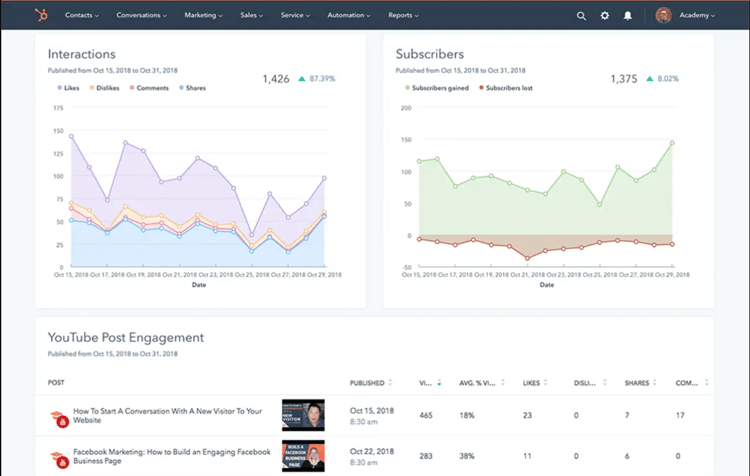 Post content directly to LinkedIn, Facebook, Instagram, and Twitter, or connect your social accounts to your blog and automatically share content as it's posted.


Create a keyword monitoring flow for the people on your team so that when the prospects mention specific keywords, you can identify important interactions in email and launch warnings.


Because HubSpot interacts with your CRM, you can view the visits, leads, and customers generated by social media for your business.


You can easily manage social media by linking social posts with appropriate campaigns. HubSpot's campaigns tool allows you to tag relevant marketing assets and content, allowing you to quickly analyze the performance of your overall marketing efforts and understand how your social postings influence your whole marketing plan.
Outperform your Competitors and rank higher in Search Results with HubSpot SEO Tool
SEO is a complicated and ever-changing industry. It might be challenging to choose which keywords to focus in order to increase traffic and conversions. This is where HubSpot's SEO tools come in handy.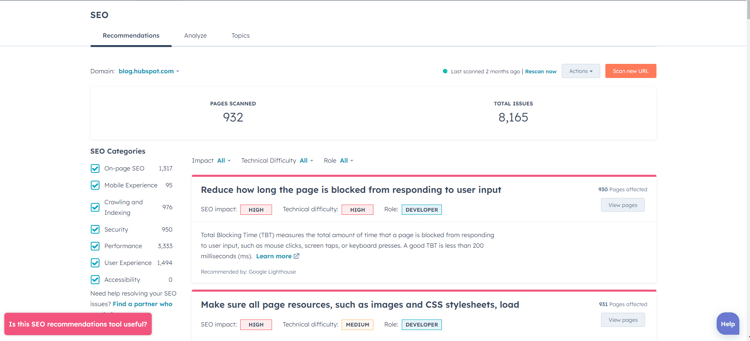 You'll get practical advice on how to

structure your website for SEO

that are prioritized to demonstrate which optimizations will have the most impact on your search performance. Observe which pages require updating, what actions should be made, and how your site's SEO improves.


HubSpot's content strategy tool makes it simple to find and rank for subjects that are important to you and your customers. You'll receive subject ideas based on relevance, competitiveness, and popularity, as well as monthly search term statistics to predict how ranking for various topics will translate to organic traffic increases.


Finally, using HubSpot's integrated content tools, develop clusters of web pages and blog material centered on each of your company's primary subjects. Create canonical URLs with simplicity to focus your search authority on your most impact sites, track all of your relevant subjects in one dashboard, and see your traffic grow over time as you establish search authority.
Develop Lead Generation and Conversion Strategies with HubSpot Forms Builder
Your website visitors have no place to ask inquiries, leave contact information, or seek extra information if you don't have online forms. The free form creator from HubSpot makes it simple to collect contact information from interested visitors and save it in your CRM.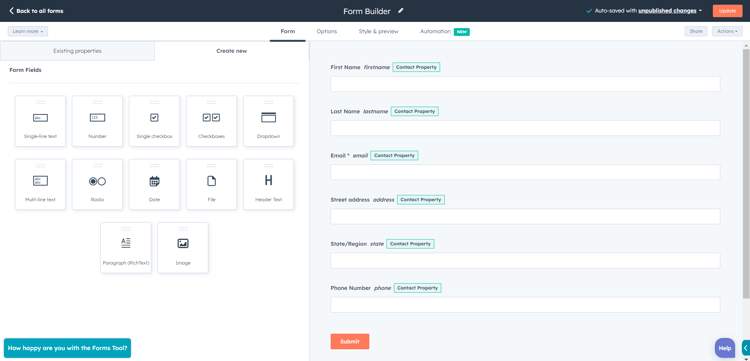 With over 1,000 predefined form fields, you may customize the forms to collect the information you need, automatically qualify and classify consumers, as well as prompt follow-ups, so you can focus on what really matters: creating connections.


A developer is not required to add a form to your website. By simply copying and pasting the installation code, HubSpot's free form creator makes it simple to embed a form into any website or pop-up.


Upgrade to Marketing Hub Professional or Enterprise to trigger follow-ups depending on the information collected on your form, and send personalized emails that your contacts would never realize are automated.


With HubSpot's free form creator, you can expedite the sales process and skip to stage two. Modify form fields to gather all of the necessary information you need to provide the best experience to your prospects from the start.
Create and publish engaging, SEO-optimized Blog Content with HubSpot Blog Builder
Develop blog material that generates traffic and conversions long after it is published. Receive advice for on-page SEO so you can outrank your competition for the keywords that matter. Employ HubSpot's SEO tools to write blog entries about subjects that increase search traffic.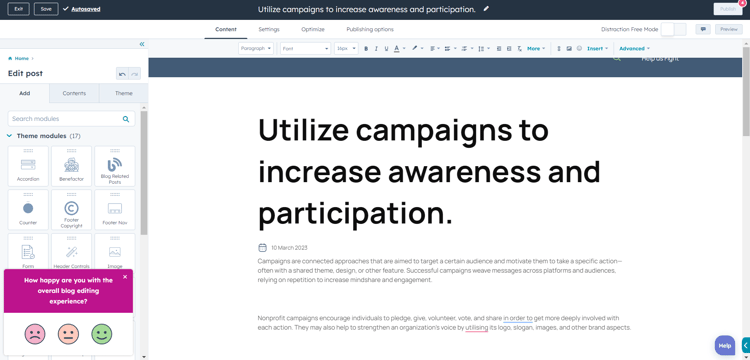 With the on-page blog editor, you can quickly enhance your posts by adding engaging photos, styling headers, and inserting links. Plus, rest assured that each blog post is automatically optimized for mobile devices.


Schedule your blog posts in advance to effectively manage your publication schedule and ensure your material reaches your audience at the right time.


Want to extend your blog's reach? Link it to your social media accounts, automatically sharing fresh content on popular social platforms.


Keep your loyal followers in the loop by sending customized subscription emails that instantly notify them when new material is published, ensuring they never miss out.


Finally, use HubSpot's powerful analytics tools to track which blog articles are generating the most traffic, leads, and customers. This valuable insight enables you to publish more of the content that drives tangible results.
Improve Conversion Rates with personalized Calls to Action using HubSpot CTA Builder
The HubSpot CTA Builder is a powerful tool that helps organizations create effective calls-to-action (CTAs) to increase conversions. With the HubSpot CTA Builder, you have the tools at your disposal to create visually appealing, personalized CTAs that drive real results.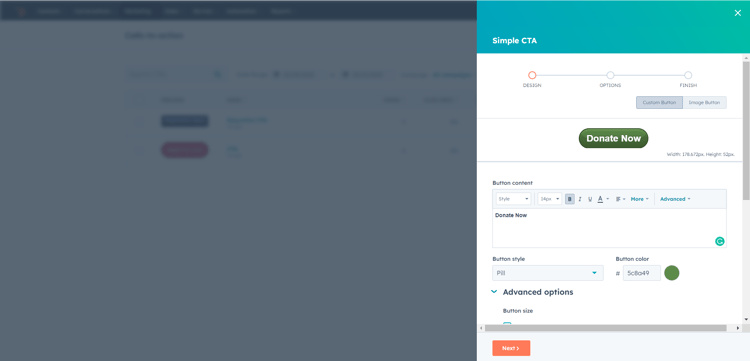 With its user-friendly drag-and-drop interface, you can effortlessly add and organize elements in your CTAs, even without coding skills.


The platform offers a variety of templates to choose from, making it easy to design visually appealing CTAs that grab attention.



Personalization and targeting options are key features of the HubSpot CTA Builder.

By integrating with HubSpot's marketing automation tools, you can generate customized CTA buttons tailored to each visitor's interests and behaviors.


You can conduct A/B testing to experiment with different versions of your CTAs and identify the most successful ones in terms of driving conversions.


To enhance CTA performance, the platform provides a CTA analyzer for optimizing click-through rates. Additionally, a mobile preview tool allows you to test your CTAs on various devices and ensure they look great.
HubSpot Sales Hub
Optimize your Sales Funnel and track Deals using HubSpot's Deal-Tracking Features
HubSpot's Deals feature is a sales pipeline management solution that allows organizations to watch their sales pipeline and manage their deals more effectively. It provides a consolidated area for handling all transactions and allows organizations to trace the progress of each deal from the beginning to the end.
HubSpot's Deals feature allows organizations to define their sales process with customized deal phases, allowing sales teams to easily track the development of each deal and discover bottlenecks in the sales process.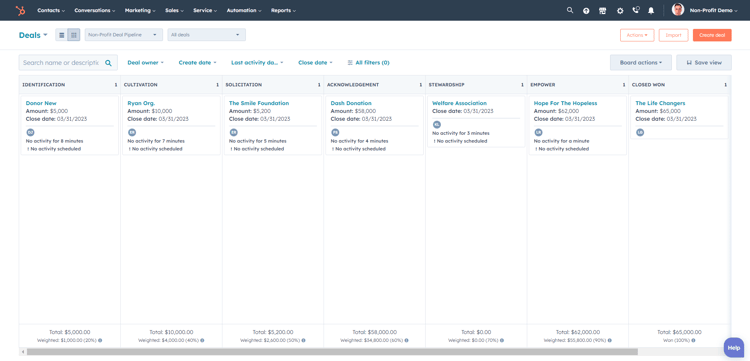 HubSpot's Deals feature delivers real-time insights into the sales pipeline and enables firms to correctly estimate revenue.


This tool assists firms in making educated judgements and planning their sales strategy.


The Deals tool in HubSpot allows organizations to track their transactions throughout the sales process.


This tool enables sales teams to determine which deals are most likely to close and concentrate their efforts on them.


Deals in HubSpot automates repetitive operations like sending follow-up emails, setting tasks, and changing deal stages. This function saves time and allows sales teams to concentrate on more critical responsibilities such as contract closure.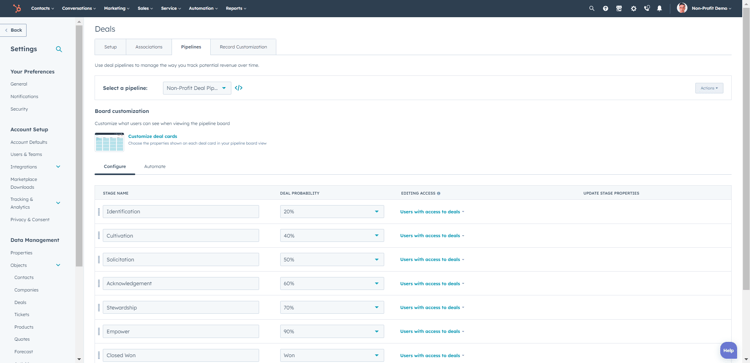 Improve your Sales Team's Productivity using HubSpot's Playbook
Designed to automate and optimize your sales and marketing operations, HubSpot's Playbook tool offers a range of features to enhance efficiency and drive success. From creating comprehensive sales enablement materials like product sheets and pricing guidelines to providing ready-to-use templates and automation capabilities, HubSpot's Playbook tool equips your team with everything they need to succeed.
And the best part? It's all conveniently accessible within your HubSpot account, making it easy to search for and access playbooks directly from the contact, company, or deal records you're working on.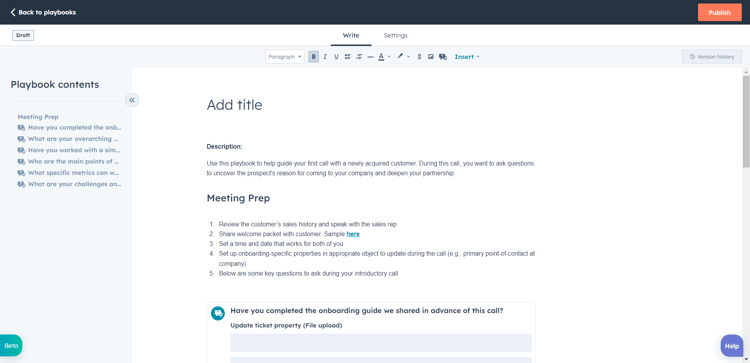 Enhance your sales calls using the Playbook tool. Whether you're on a discovery call or engaging with a prospect considering a competitor, leverage call scripts and the battlecard feature to make a lasting impression. Ask the right questions, gather valuable insights, and clearly differentiate your answers, giving you a competitive edge in the sales process.


HubSpot's Playbook tool offers configurable phases, enabling you to define and customize your sales process to suit your specific needs.


It also provides powerful reporting and analytics capabilities, giving you real-time insights into your sales pipeline and helping you make informed decisions. You can accurately estimate revenue, identify bottlenecks in the sales process, and track the progress of your transactions from beginning to end.
Simplify Accepting Payments, streamline Processes, and speed up Getting Paid using HubSpot's Payments Tool
HubSpot Payments is a built-in payment processing solution that enables businesses to take payments straight from their website. It offers clients a seamless and secure payment processing experience while also assisting companies in managing their payment procedures more effectively.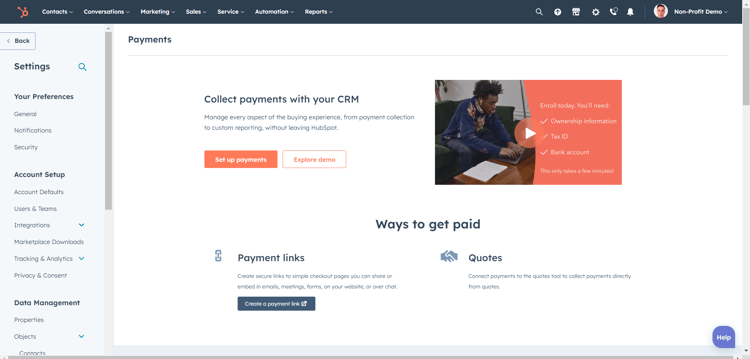 The Payments feature from HubSpot allows companies to take payments via a variety of payment methods, including credit cards, debit cards, and ACH transfers.


HubSpot's Payments tool is PCI certified, so all payment information is securely kept.


HubSpot's Payments solution connects smoothly with the HubSpot CRM, allowing businesses to better manage their payment operations. The Payments solution from HubSpot helps businesses to brand and message their payment forms.


HubSpot's Payments tool is a wonderful resource for companies trying to optimize their payment processes and improve their customer experience, streamline their payment processes, generate revenue, and better manage their payment data by utilizing HubSpot's Payments product.
Utilize HubSpot's Template Builder to access tailored Templates for each Stage of your Customer Journey
It might take hours to write a suitable sales email. Repeating that procedure for many prospects might consume an entire week. With a straightforward UI and pre-made themes, you can easily create email templates with HubSpot.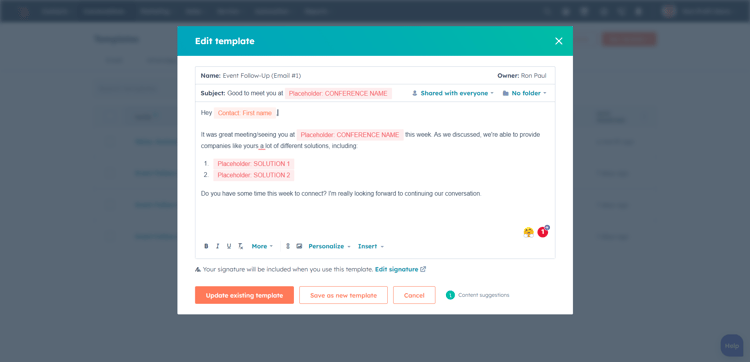 Make each template unique to your brand

and content format for each step of customer journey. When you're ready to contact prospects, customize and send each email from your inbox in seconds.


Gain valuable insights with real-time data on email open rates, attachment clicks, and other metrics, helping you evaluate template performance and make data-backed decisions.


HubSpot's email template builder integrates with your preferred email platform, be it Gmail, Google Workspace, Outlook, or Office 365, allowing you to send templates without leaving your familiar email environment.


Keep prospects engaged by adding customization tokens, important sales documents, meeting links, or even embedding personalized videos through the Vidyard integration.
Book more Meetings and Appointments with less Hassle using HubSpot Meeting Tool
The HubSpot meeting scheduler integrates with the tools your team already uses and is linked to your HubSpot contacts database, which means that every time a prospect arranges a meeting, your database grows and stays in sync. Begin making more appointments with less trouble and reclaim your time to focus on more essential matters.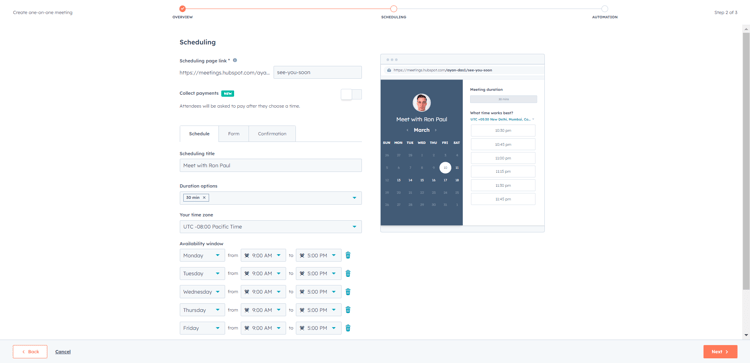 Let prospects to schedule meetings with you and save hours of time on useless emails. HubSpot's meetings feature syncs with your Google or Office 365 calendar, ensuring that prospects always see your most recent availability.


Prospects can book time with numerous persons using group meeting connections, or they can utilize a round-robin meeting link to meet with whichever rep's schedule works best for them.


Prospects who plan meetings will be instantly added to your HubSpot contacts database, ensuring that your network grows and remains structured.
Provide Real-time Customer Support while on-the-go using HubSpot Live Chat Feature
Each chat session is instantly saved in a universal inbox on HubSpot's free CRM, providing your team with full context and a clear picture of every prospect or customer engagement.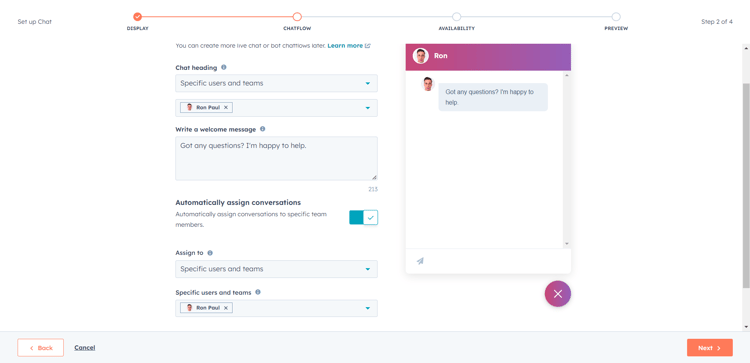 Reply to chats, take notes, send emails, make phone calls, plan follow-up activities, create support tickets, and more – all from the inbox of discussions.


HubSpot's live chat platform is completely integrated with a chatbot builder that you can use for free right now - no coding necessary. Create bots that can help you qualify leads, arrange meetings, answer common queries, and more.


Employ live chat to automatically route chatters to the appropriate team members, route customer queries to your services team, and send leads to your sales team.


Create tailored welcome messages for different web pages or groups of your audience, and easily personalize your live chat widget to match the style and feel of your business.
HubSpot Service Hub
Track and analyze Team Performance and Customer Satisfaction with HubSpot's Ticket Automation
HubSpot's Ticket Automation feature is a helpful ticketing system that automates support operations for organizations. It provides a centralized platform to manage support requests, allowing businesses to prioritize, allocate, and monitor tickets efficiently. By utilizing HubSpot's Ticket Automation tool, businesses can improve their support procedures, increase productivity, enhance the customer experience, and effectively manage their support data.
HubSpot's Ticket Automation feature supports automated ticket creation, prioritizing, assignment, and tracking capabilities making it a great tool for firms trying to optimize their support procedures.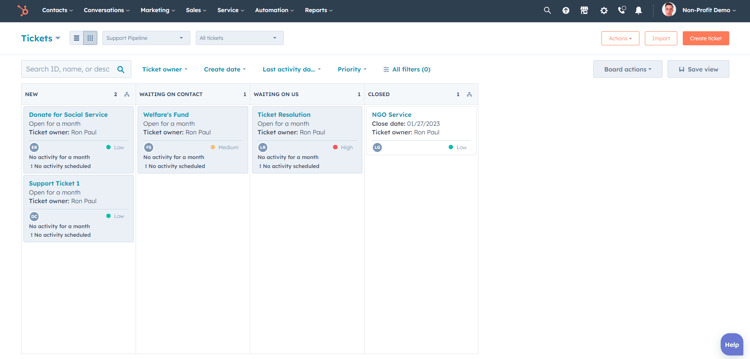 The all-in-one ticketing system from HubSpot gives context for every engagement. Maintain SLAs, prioritize incoming requests, and deliver a great experience across the board.


Service Hub is built directly on top of HubSpot's CRM, giving you a comprehensive view of your customers at all times. This integration ensures that you have the necessary information and insights to provide personalized and efficient support.


Create dashboards within the ticketing system to highlight major customer complaints and assess agent performance. Analyze important metrics such as contact volume, response time, NPS (Net Promoter Score), and more, using the built-in analytics feature.


With the analytics capabilities of HubSpot's ticketing system, you can gain valuable insights into customer experience metrics and track your progress. This allows you to identify areas for improvement and make informed decisions to enhance your customer support.


Set milestones and track your progress within the ticketing system. This feature helps you stay on top of important customer support goals and ensures that you are meeting your targets effectively.
Simplify your Customer Feedback Tracking with HubSpot Feedback Tool
Do you want to assess consumer loyalty?
Do you want to know how your consumers feel about your customer service?
Your customers are the most crucial aspect of your business, and listening to them is one of the most effective methods to expand it. With personalized surveys and feedback gathering tools, HubSpot's customer feedback software enables you to uncover what your consumers truly think.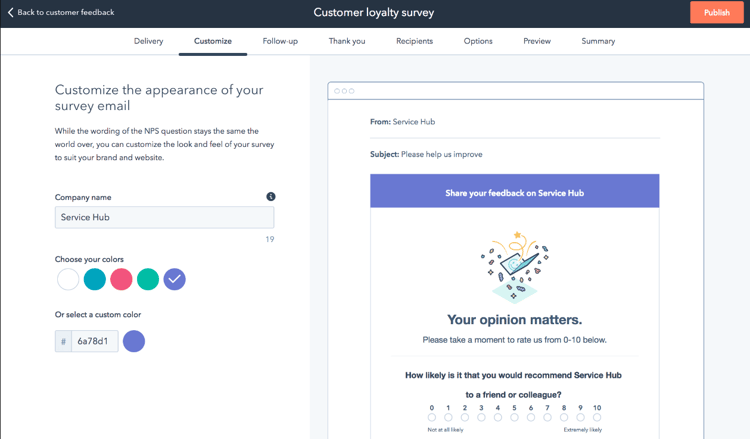 Customize your surveys with a variety of question types and a customized framework. Send your surveys via web link or email, then quickly share the results with your teams to strengthen customer relationships and increase retention.


To measure customer loyalty at every touch point, use pre-built net promoter score (NPS), customer effort score (CES), and customer satisfaction (CSAT) questionnaires.


With HubSpot's Feedback Surveys Tool, you can closely monitor customer satisfaction and take prompt action based on your findings using built-in feedback dashboards.


Send out automated surveys and watch as customer feedback pours into your dashboard. Discover chances to enhance key points in the customer journey, track customer satisfaction, and spot patterns that can help you develop an even better customer service plan.
Use HubSpot Knowledge Base to increase the Productivity of your Support Team
Every consumer is valuable. Yet, if your support crew is required to spend too much time addressing little, straightforward questions, they may rapidly get overwhelmed - leaving less time for larger concerns.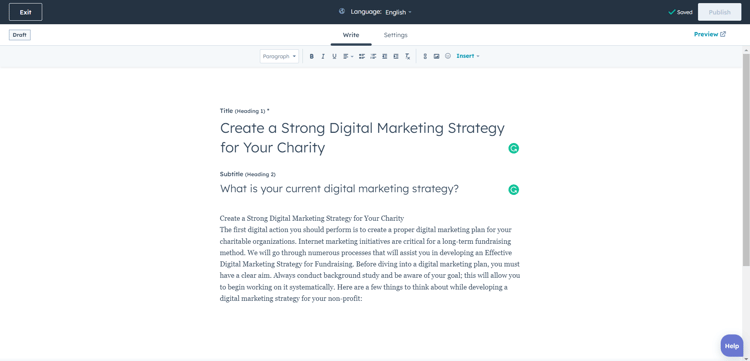 With HubSpot's knowledge base software, you can empower your consumers to assist themselves.


Write assistance articles, categorize, and subcategorize them, and tag them with relevant search phrases.


Improve the efficiency of your support crew by eliminating time-wasting queries. HubSpot's free CRM automatically tracks which articles clients have read, preventing your team from sending out identical material.


Your team can readily discover solutions to topics they may not know since your knowledge base also serves as a useful customer service reference.


Convert the most commonly requested support inquiries and issues from customers into a searchable knowledge library of assistance articles and documentation.


Personalize the appearance and feel of your knowledge base to match your brand, categorize your articles, and see how they look on different devices.
Use HubSpot's Customer Portal Feature to enhance your Customer Experience with personalized and seamless Service
Consumers want to know how their service experience is progressing and to be able to address problems without having to contact customer service. Your customer portal, which is linked to your HubSpot shared inbox, keeps ticket discussions between customers and agents continuing and provides your consumers with clarity on how their concerns are being addressed.
Integrate client portals to your company's knowledge base, personalize it to match the style and feel of your brand, and deliver a unified experience for your consumers. Customer portals are a convenient way for your customers to communicate with your support personnel.


Offer your clients a safe area to monitor and manage all of their open and closed support tickets or create a new one so they can move issues forward swiftly and feel confident that their concerns are being addressed.


Customer support teams must perform effectively and focus on high-impact tasks. To give rapid responses, automate repetitive activities, build workflows, and share knowledge base articles with clients.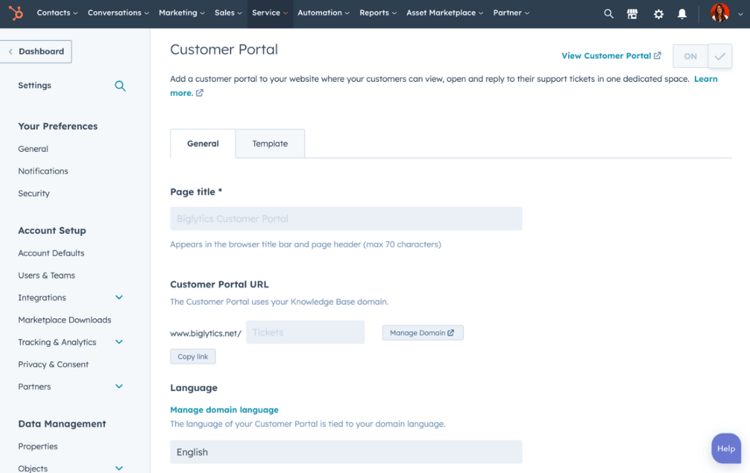 HubSpot Reporting and Dashboard Tool
Use HubSpot Custom Report Builder to track and visualize Company Performance
Expanding businesses require rapid access to critical data. That's a tough task when you're using spreadsheets for reporting or have to wait for an analyst every time you need a new report. To receive strong, comprehensive analytics reports, make HubSpot the source of truth for all your data.
Connect your CRM data to your marketing, sales, and service data in real time. Connect data from your existing business apps into HubSpot to bring all of your data together – and create powerful custom reports.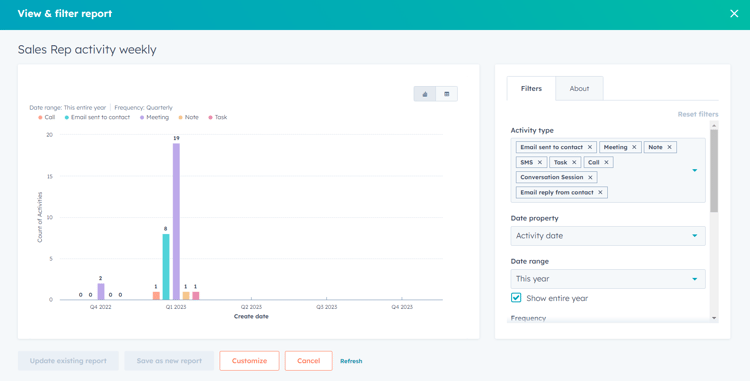 Gain insights that matter by combining multiple reports and creating configurable dashboards. Whether it's high-level overviews for leadership or personalized dashboards for team members, HubSpot allows you to set up the right visualizations in minutes.


Customize your reports to align with your company's specific needs. With HubSpot's dashboard template collection, you can start with pre-built dashboards designed for common use cases. Use the intuitive drag-and-drop editor to further adjust the layout according to your preferences.


Easily share your dashboards with others using HubSpot's convenient sharing options. Whether it's via Slack or email, you can seamlessly distribute your dashboards directly from HubSpot, ensuring everyone stays informed and aligned.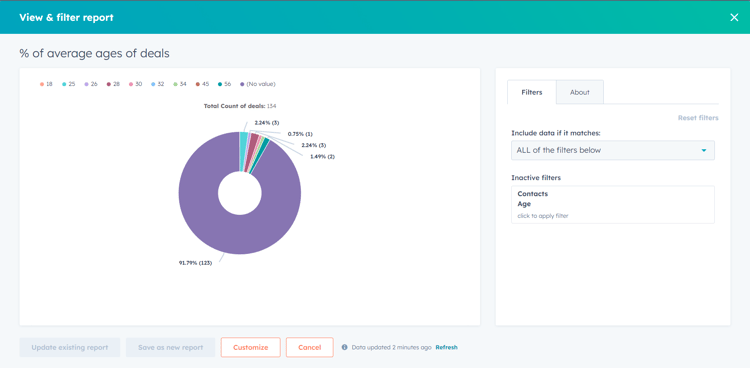 With sophisticated reporting permissions, you can provide everyone access to the data they need while keeping sensitive data protected. Configure reports and dashboards to public or private, or limit access to certain individuals and teams for greater data management.


Users may also filter their data based on certain requirements, such as connections or deals that were generated during a specified time range or with specific qualities. After setting the report criteria and filters, you may pick how they want their data shown, such as in a table, chart, or graph.


You may also store your reports for later use, schedule reports to be automatically created and delivered to particular team members or stakeholders, and export reports to CSV or Excel files.

HubSpot Integrations
Boost Engagement and reach Contacts faster with HubSpot-Sakari Integration through Two-way Text Messaging
The HubSpot Sakari Integration functionality enables HubSpot users to link their HubSpot CRM to Sakari's messaging platform. Sakari is a messaging platform that allows businesses to send SMS text messages to their consumers and prospects.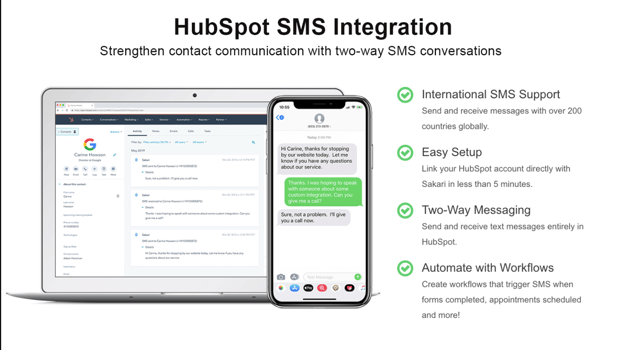 Businesses who integrate HubSpot and Sakari may leverage Sakari's messaging capabilities to send automated SMS messages to their contacts straight from the HubSpot platform. This may assist firms in improving contact communication, automating marketing and sales operations, and increasing overall efficiency.


Businesses may use the interface to send and receive SMS messages with their contacts directly from HubSpot.


Users of HubSpot may configure automatic SMS workflows based on certain triggers such as contact form submissions or deal stage changes. The connection syncs contacts between HubSpot and Sakari automatically, ensuring that all contact information is up to date.


Transform Non-Profit engagement with HubSpot's suite of features
HubSpot for Non-Profits offers a game-changing solution to boost your impact in 2023 and beyond. With its comprehensive suite of tools tailored specifically for non-profit organizations, HubSpot enables you to attract, engage, and retain supporters effectively.
From marketing and fundraising to volunteer management, HubSpot's all-in-one platform streamlines your efforts, allowing you to focus on making a difference in your cause. With HubSpot's intuitive interface, powerful features, and seamless integrations, you can stay ahead of the curve and provide a remarkable experience for your supporters.

If you're ready to take your non-profit to new heights, explore the pricing options for HubSpot and compare plans to find the perfect fit for your organization's needs.

Still have questions or need assistance? Contact us today, and we'll be more than happy to help you make the most of HubSpot for Non-Profits. Together, let's make a lasting impact in the world.
Recommended Read:
HubSpot Pricing 2023 [Comparison of All Plans]
HubSpot Free vs Paid: Find the right package for your business
Why switch to HubSpot? Have a look at these in-depth HubSpot reviews
HubSpot onboarding options: Direct vs. Onboarding with a partner agency
HubSpot Discount Codes: The Smart Marketer's Guide to Saving Money
Frequently Asked Questions
Is HubSpot good for nonprofits?
HubSpot is excellent for nonprofits. It helps them organize fundraising efforts and strengthen connections with donors. The platform offers handy tools for tracking and reporting, making fundraising campaigns more effective. Additionally, HubSpot provides educational resources and tailored support for the nonprofit sector, making it an ideal choice for organizations looking to maximize their impact.
Does HubSpot offer a non profit discount?
Yes, HubSpot does offer a generous 40% discount for nonprofit organizations. This discount is designed to help nonprofits maximize their impact while staying within budget. Whether you're trying to reach new audiences or connect with long-term supporters, HubSpot's tools and resources can assist nonprofits in achieving their goals more effectively and affordably. This discount makes it easier for nonprofits to manage marketing, outreach, and engagement efforts while keeping costs low and focusing on their mission.
How many nonprofits use HubSpot?
HubSpot, a company that helps organizations with their online presence, collaborates with over 4,000 nonprofits worldwide to make a positive impact. By offering its services and expertise, HubSpot empowers these nonprofit organizations to grow and achieve their missions more effectively. This partnership allows nonprofits to reach a wider audience, raise awareness, and garner support for their causes, ultimately contributing to positive social change on a global scale. HubSpot's commitment to helping nonprofits underscores its dedication to making the online world a better place for everyone, including those working towards meaningful change.


What is HubSpot nonprofit?
HubSpot Nonprofit is a suite of software tools provided by HubSpot, a well-known company specializing in marketing, sales, and customer service software. These tools are designed to help nonprofit organizations effectively manage their online presence, create and run marketing campaigns, and analyze their performance. Nonprofits can use HubSpot's services to improve their outreach, engage with supporters, and streamline their operations, ultimately helping them achieve their goals in a more efficient and impactful manner.