HubSpot works round the clock to make its product better and better in order to keep its clients ahead of its competitors by providing them extraordinary experiences. Keeping its clients' needs in mind, its product team has once again brought some exciting features.

Let's see what the HubSpot product updates February 2021 is all about.


1. What is the Latest in Marketing Hub
1.1 Marketing Tasks
Applies to: Marketing Hub Professional, Enterprise; Sales Hub Professional, Enterprise; Service Hub Professional, Enterprise
HubSpot Marketing Tasks feature allows you to create and assign marketing tasks in the campaign tools which helps you in keeping your marketing campaigns organized.
How does it Work?
Go to Marketing > Planning & Strategy > Campaigns.
Click the Tasks tab.
Click Create Task.
Benefits
You will be able to review, edit and complete marketing tasks on the Tasks tab or directly on your marketing calendar.
1.2 Add Data to Google Sheets with Workflows

Applies to: Marketing Hub Professional, Enterprise; Sales Hub Professional, Enterprise; Service Hub Professional, Enterprise
With the new update regarding workflows, when you add an action to a workflow, a new row of data in a new or existing Google Sheet will automatically be created.
How does it Work?
Click on a workflow.
Add action.
Click 'Connect an app' on the left panel.
Type 'Google sheet'.
Benefits
This will save you the time it takes to export data and help you answer questions faster.
1.3 Flexible Workflows with Dynamic Delays

Applies to: Marketing Hub Professional, Enterprise; Sales Hub Professional, Enterprise; Service Hub Professional, Enterprise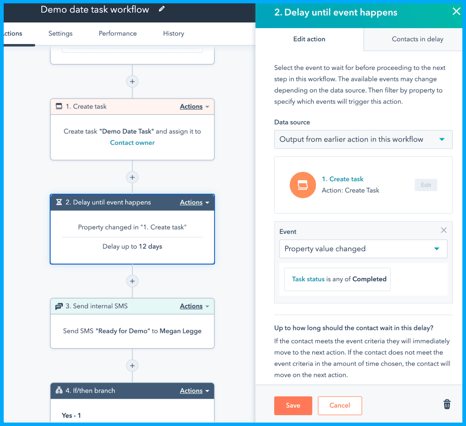 Have confidence that your workflows are firing precisely by using the delay until an event happens to pause a workflow until property on a task, deal, or ticket is updated.
How does it Work?
In the "Delay until event happens" action in the workflow, choose the Data Source of "Output from earlier action in this workflow" to create a delay related to a previous action.
Next, select the desired Task action.
Create a filter for the event (E.g. When the Task Status changes to Completed.)
Benefits
Make the workflows more powerful and give make their working precise.
2. What is the Latest in Sales Hub
2.1 Sequence Enrollment in Revenue Attribution

Applies to: Marketing Hub Enterprise; Sales Hub Professional, Enterprise
Knowing what's working and what's not is an integral part of growing any business. Attribution Reporting helps you to connect every customer interaction to revenue automatically.
Now, sales reps can get a full insight into their work, whether that's turning cold emails into closed deals or take warm leads through the process. You can configure attribution reporting to assign credit to any closed-won deal that got enrolled in Sales Hub Sequences or automated sales email nurture streams.
How does it Work?
Click the settings button in the main navigation bar of your HubSpot account.
Tracking and Analysis > Attribution.
Scroll down to "Contact enrolled to sequence."'
Switch on the toggle and click Save
Benefits
Knowing what is working for your business and what is not is very important in order to make it grow. This feature will help sales reps to have a complete view of their work.
2.2 Forecast Submissions

Applies to: Sales Hub Professional, Enterprise
With the Forecast submissions feature, sales reps and managers can submit a custom forecast for the month or quarter. This forecast then rolls up by the team to give their management a look into where the team thinks they'll land.
How does it Work?
Sales>Forecast.
In Forecast Submission column, click the pencil icon next to the row.
Here you can submit a forecast of how much you anticipate closing that month or quarter.
These submissions will also be visible on their Manual Forecast reports in Sales Analytics.
Benefits
It helps in anticipating closing for the month or quarter.
3. What is the Latest in Service Hub
3.1 Play Videos in Chat Widget

Applies to: All products and plans
If your chat-bot includes a product demo video or a how-to video, this feature will let you play the videos right in the chat widget. Now visitors don't have to download and play videos into a separate tab while chatting with you. They can seamlessly watch the videos you send via chat.
How does it Work?
In the chat-bot editor, click the "Insert video" button to add a video within your text fields. Select a saved video or record a new one.
Benefits
This play video feature in the chat widget will make your conversation with the visitor more efficient and personalized, leading to more delighted customers.


4. What is the Latest in CMS Hub
4.1 Lazy Loading Images

Applies to: All products and plans
Slow loading webpages give the visitor a lousy experience, whereas the faster pages rank higher in Search Engine Result Pages, have lower bounce rates, and give visitors a nice user experience.
One of the best SEO practices you can implement on your website is lazy loading on your images. Lazy loading gives pages a faster loading time. Now, with the new update in HubSpot, you can easily enable lazy loading for images on your pages.
How does it Work?
This can be done for images within the image module, a rich text module, or a custom module by only switching the "Image Loading" from default to "Lazy."
Click on the image module in the web-page editor.
In the left panel, scroll down 'Image loading.'
Click the drop-down and select 'Lazy.'
Benefits
It helps your website pages load faster.
4.2 HubDB Row Fields

Applies to: CMS Hub Professional, Enterprise
HubDB in HubSpot allows you to create dynamic content based on a specific dataset. With the new HubDB row field, developers can create custom modules that reference a HubDB table, while marketers can now select exactly what rows from the table they want to display as part of the custom module. This will make the work a little less for the developer and gives more power to the marketer to use their HubDB data in their content.
How does it Work?
Select the HubDB row field when creating a new custom module.
Set the HubDB table you want to pull information from.
Choose which columns should be displayed in the module's output.
Benefits
Marketers can now easily control what information appears on their pages within the content editor.
4.3 Personalized Websites with CRM Object Field

Applies to: Marketing Hub Professional, Enterprise; Sales Hub Professional, Enterprise; CMS Hub Professional, Enterprise
You can create personalized experiences for your visitors by leveraging CRM data directly on your website. This could mean you can offer a login to your customers to manage their personalized account information or to set up a simple real estate listing where site visitors can see the information about properties you manage. HubSpot has launched a new CRM Object CMS module field to make it easy for you to use CRM data on your website.
How does it Work?
CRM object module field lets developers build modules that pull data directly from different CRM objects. Then the marketers can drag-and-drop these modules into their pages to easily leverage information stored within their CRM object instances in their content.
Benefits
Personalized user experience for the visitors visiting your website.
4.4 Team Notes on Meeting Activity

Applies to: All products and plans
When you have meetings round the clock, it's critical to share meeting details, agenda items, and goals with your attendees. You also need to collaborate with your team to keep track of important details. With the new update, you and your team can leave notes on meeting activities without syncing to your attendees' calendars via the bidirectional calendar sync.
How does it Work?
Connect your Google calendar with HubSpot.
Go to Contact/Company/Deal/Ticket record.
Click Create Meeting under Meeting
Add notes under Team notes.
Benefits
Seamless team co-ordination.
In the End
I hope you had a good insight about the updates we have covered for you and how you can leverage them to improve your team efficiency and grow your business.
If you have any questions about a HubSpot topic, you can refer to our HubSpot Help Center.
We will be back soon with new product updates. Don't forget to contact us and know more about HubSpot.
Frequently Asked Questions
What is the main feature of HubSpot?

HubSpot's main feature is its ability to help businesses capture leads and convert website visitors into valuable leads. It offers user-friendly tools like lead forms, free ad management, and landing pages. Additionally, it features chatbots for real-time customer engagement and support. This comprehensive platform streamlines the process of interacting with and nurturing leads throughout their journey, making it an invaluable tool for businesses looking to boost customer relations and conversions.



HubSpot is an ideal choice for those growing their businesses and exploring digital marketing or CRM tools. It's a versatile platform that seamlessly integrates marketing, sales, customer service, website management, and operational tasks into one comprehensive solution. HubSpot simplifies your workflow and helps you manage multiple aspects of your business efficiently, making it a popular choice for businesses at various stages of growth.

HubSpot helps businesses manage customer relationships and grow. It offers a free CRM (Customer Relationship Management) system to organize and nurture leads. It features live chat for real-time customer engagement, which aids in lead conversion, deal closure, and support. With a meeting scheduler, you can easily set appointments through email or your website. HubSpot also provides a website builder, allowing you to develop your business's online presence. It's a versatile tool for marketing, sales, and customer service, streamlining many aspects of your business operations.
What is lead status in HubSpot?
In HubSpot, the "Lead Status" indicates what your sales team is doing when a contact reaches the Sales Qualified Lead (SQL) stage. It reflects the actions taken in the sales process, like whether they are being contacted, in negotiation, or have been won or lost. HubSpot offers predefined choices, but you can adapt and personalize these options to align with your unique sales workflow. Essentially, it helps you keep track of where potential leads stand and the progress made in converting them into customers, making your sales strategy more organized and efficient.