Worried about hitting the business targets besides fulfilling the responsibilities of successful project managers? If yes, then you are in the right place. HubSpot project management tool will help you achieve success besides building strong relations with the customers.
If you are reading this article, you might be leveraging the power of HubSpot- an all-in-one business automation tool, but still unaware of the advantages of its project management tool.
Well! Need not worry! Certainly, this article will make you familiarize with the HubSpot project management tool and how it's going to transform your work structure.

Before we dive into project management benefits, let's first know about this tool in detail.
What is HubSpot Project Management Tool?
HubSpot project management is a powerful productivity tool right where you are already using HubSpot software. This tool allows you to assign tasks, plan campaigns, manage projects, satisfy clients, etc., easily.
Moreover, it helps you plan and manage your work efficiently in one place by using structured lists of tasks.
Now, with the HubSpot project management tool, you don't need to perform and manage tasks. You can do it right where you do all your marketing. It allows you to get both granular and high-level views of deadlines, tasks, and resources so that you can achieve your goals quickly.
Why use the HubSpot Project Management Tool?
Now, you have a good understanding of the HubSpot project management tool, it's time to take a step forward and know why to use HubSpot Project Management Software if you are using any HubSpot Hub.

Well! There are multiple reasons to choose this fantastic tool. Excited to have an in-depth understanding of its advantages, let's take a rundown on the benefits of using the HubSpot project management tool.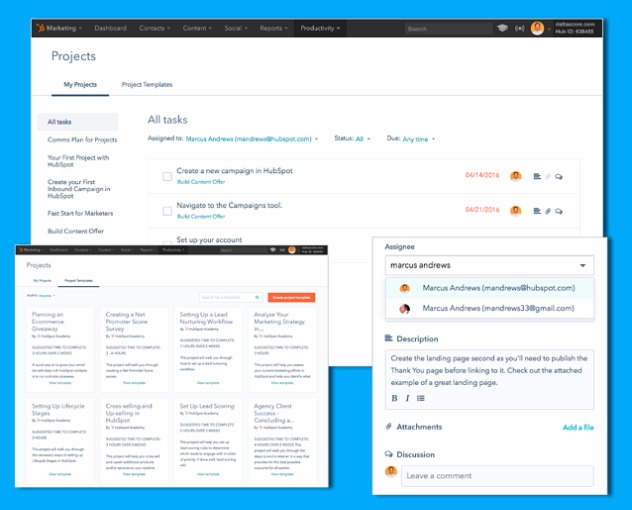 Source: HubSpot
Easily manage Projects from a centralized Place
Are you fed-up updating color-coding spreadsheets, planning confusing campaigns, etc.? Want to avoid the issues and perform tasks without navigating to different tools?
That's where the HubSpot project management tool comes into play.
HubSpot project tool allows you to plan, create and launch marketing projects easily from one centralized place without any challenge. Yes, you heard right! It is one place to perform all the tasks.
The best part about it is that you don't need any third-party tools or logins. It will save you a lot of time while managing and walking through the projects that help you achieve business heights and reach your marketing goals.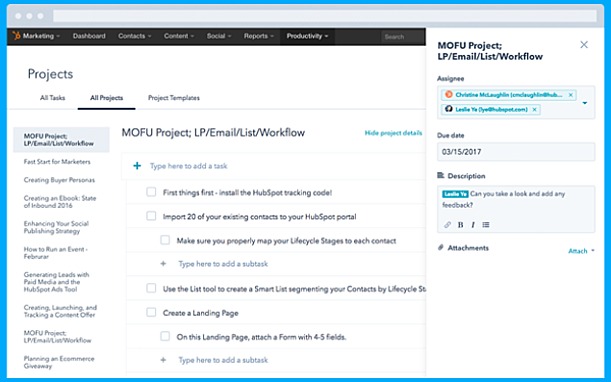 Source: HubSpot
Accelerate Business Productivity
If you want to amp up your business productivity and reach the business goals by keeping track of every task and reach, then it's time to leverage the power of the HubSpot project tool.

Well! Staying productive besides running new campaigns, building newsletters, etc., is not a cakewalk.

One needs to use the right tool and approaches to get things done on time and more efficiently. No worries! HubSpot project tool will allow you to boost your productivity sky-high.
This project management tool will be a great help, especially for the person handling multiple projects simultaneously.
If you are the one facing the hassle and hampering your business productivity, then congrats! You have a full-fledged tool that allows you to perform each task efficiently and productively without switching between different tools.
So, it's time to organize things in the right way and increase productivity.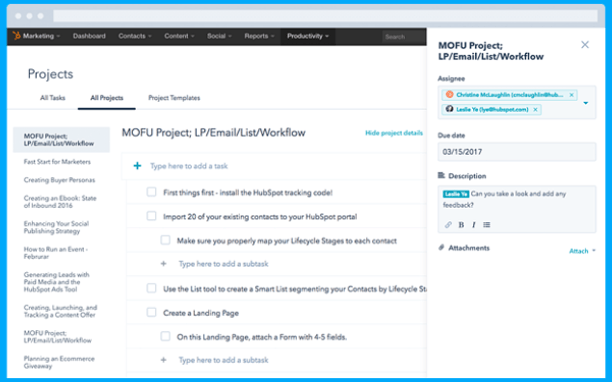 Source: HubSpot
Ensure Deliverables are on Time
Delivering quality projects on time besides handling other tasks is a bit challenging.
But, if you are using a project tool, you don't have to waste time managing things, assigning tasks to team members, tracking items, etc. It will be all done under one umbrella.

By viewing the time slots and evaluating the project's deadlines, you can quickly overview your project, like how many more hours it will take to deliver the project. Well! It's the time that needs to be managed; it's your project tasks that need to be tracked and handled.

Some people pay extra for integrating time tracking tools to keep track and make things done smoothly. But now, it can be all done quickly without investing a single penny. HubSpot project tool will make it possible.

It allows you to arrange scattered things and helps you organize and communicate with your team members easily.

Now, you don't need to calendar productivity and time on different spreadsheets. At last, all you need is the HubSpot project tool.

So, if you want to relieve your workload and run a successful project, it's the right time to use the HubSpot project management tool.
Easily check Task Status
Another reason to use the HubSpot project tool is its "all task" feature. It allows you to easily review and track the progress of the project so that it becomes easy to close deals and make the management life easier.
Once you click on this tab, you can view all the tasks that have been created for all your team members. Once you have a clear understanding of the status of the project, you can easily coordinate with the clients and ensure on-time project delivery.
The project tool allows you to check the task status of the new, in-progress, on-hold/postponed, finished, and deleted tasks. Moreover, depending on the nature of the project, you can also evaluate the task status that is waiting, in review, recurring, or failed. Isn't it so good? Of Course, yes.
Now, you can easily access the risks that can further cause delays in the project and start communicating with the clients and stakeholders to build strong relations and improve the bottom line.
Create a Project using pre-populated Templates
Now, you don't have to spend a couple of hours creating the project from the beginning. Just grab a pre-posted project template to get your work done more efficiently.
It basically walks you through the steps to easily do the tasks, including redesigning the website, creating a newsletter, building a content offer, and many more.
HubSpot project tool has also provided the ability to create different types of project templates for generic campaigns or other tasks, including personal templates, templates that can be shared across different accounts, or global access templates.
For example, if you have an Onboarding project that needs to be done, you can create a project for onboarding under Marketing > Planning and Strategy > Projects > Create Project. Furthermore, under this project, you can create tasks and subtasks that have to be done to collaborate better.
So what are you waiting for? Begin with the existing project template and proceed accordingly.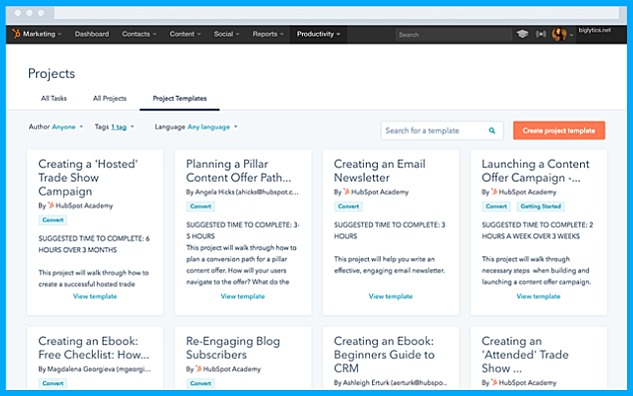 Source: HubSpot
Allows Team to work Efficiently
Handling the entire team besides completing the project and delivering it to the client isn't always easy, especially if you are managing multiple team members.
But with HubSpot projects, it's quite better. Even confusing and difficult tasks can easily be organized. Yes! It's time to spend less time managing the tasks, performing tasks, doing marketing, and creating projects for more time.

Moreover, by using the HubSpot project tool, you can easily assign tasks to users and keep track of the progress all on one platform. Also, you can set the due date, link the task to assets to different HubSpot tools like site pages, blog posts, etc., add attachments, and many more. You can also comment and mention users on these tasks.
So, if you want to enhance your team collaboration by tracking and organizing the project management process, start availing HubSpot project tool's benefits and improve your project performance.
Organize Onboarding Tasks Effortlessly
Last but not least is modularizing and onboarding critical onboarding tasks. HubSpot project tool allows you to tackle the issues easily by using the tackle-based checklist.
Tasks such as core inbound methodology tactics, technical setup, etc. can be performed efficiently without investing a huge time and effort.
It would not be wrong to consider the HubSpot Project tool as the default way to onboard clients and make them understand the HubSpot tool easily.
Now, don't waste your time and money to make things work for you. HubSpot project management tool will help you drastically improve the work and get projects to work for the best.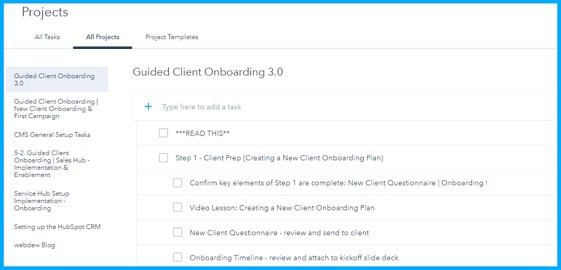 Source: HubSpot
Wanna know how to use the HubSpot project tool? Click here!
The bottom Line
Now that you have a clear understanding of the HubSpot project management tool, you don't have to invest in a separate tool for managing the projects and closing more deals.
It not only allows you to better plan your tasks and track your progress but also helps you organize your entire team from one centralized place.
Hopefully, the points mentioned above inspire you to use the HubSpot project management tool.
But still, if you have any second thoughts regarding the HubSpot project management tool or want to avail the best HubSpot services, we are here to help you.
We are a certified HubSpot Diamond partner agency that ensures to deliver of the best services at an affordable price. Feel free to contact us!
Frequently Asked Questions
What are the advantages of using HubSpot?
HubSpot offers a central hub to keep track of essential data on potential customers and partners. HubSpot CRM streamlines your work by letting you manage tags, craft email templates, schedule calls, and more all in one place. It serves as both a data repository and a communication tool, simplifying your workflow and enhancing organization.
Is HubSpot a task management tool?
HubSpot isn't primarily a task management tool, but it helps organize tasks related to sales and customer interactions. It gathers prospect information in one spot for easy access and review. You can sync your calendar and swiftly schedule meetings through HubSpot. Plus, it offers a real-time feed showing when prospects engage with emails or view sales materials. This feature streamlines communication and boosts productivity for sales teams. While it includes task management aspects, its main focus is on facilitating customer relationship management and sales processes.
What tools does HubSpot have?
HubSpot offers a range of tools to help businesses grow and manage their operations. They have Marketing Hub for automated marketing tasks, Sales Hub for customer relationship management, and Service Hub for top-notch customer service. Additionally, there's CMS Hub for content management, Operations Hub for streamlining operations, and Commerce Hub for B2B commerce needs. These tools work together to support various aspects of a business, from attracting customers to delivering excellent service and managing content effectively. HubSpot's suite of products provides comprehensive solutions for businesses looking to enhance their marketing, sales, service, operations, content, and commerce strategies.
What is the main feature of HubSpot?
HubSpot's standout feature is its customer relationship management (CRM) system, which offers a suite of tools to help businesses capture and nurture leads effectively. With lead forms, ad management, and landing pages, you can turn website visitors into valuable leads. What's more, HubSpot's chatbots enable real-time communication with visitors, enhancing customer support and engagement across various stages of interaction, making it an all-in-one solution for businesses to manage customer relationships.