It takes more than a few contact attempts to convert leads into customers. While that might not be difficult to execute with a handful of leads, what happens when you're managing a data set of hundreds or even thousands of leads to be closed?
That's where HubSpot sequences come into play.
HubSpot sequences allow you to automate personalized one-on-one emails to your prospects until they get converted. HubSpot Sequences is accessible to businesses using Sales Hub Starter.

Want to know more about HubSpot sequences? Keep reading this easy guide to learning HubSpot Sequences' best practices and how you can create and edit HubSpot Sequences.
So, let's get started!
HubSpot Sequences
With the HubSpot Sequences tool, you can send out a sequence of targeted, timed email templates to nurture contacts over time. You can additionally create tasks automatically to remind you to follow up with your contacts.
What HubSpot Sequences do is automate bottom-of-the-funnel (BOFU) lead nurturing without losing that custom-made touch that'll keep your prospects engaged until they get converted. When a contact replies to the email or books a meeting, they will automatically get unenrolled from the sequence.


How are HubSpot Sequences Useful?
The HubSpot Sequences feature lets your sales team automate their sales outreach, keeping their communications customized at all phases of the sales process.
HubSpot Sales Sequences permit you to nurture your prospects efficiently with an email, and that too at the click of a button. You can schedule when every single email template will be sent out and set tasks and notifications, so you stay 'in the loop when a prospect engages with your content.
Sales teams can select a single contact or several contacts, making use of the sequence queues features. With this, you can customize the email contact for every individual, irrespective of how many contacts are being added.
Using HubSpot Sequences, you can:
Automate follow-ups
Add a touch of personalization
Nurture prospects throughout an extensive period of time
Use data to find the best-performing sequences
Obtain a response easily
How to create HubSpot Sequences
Create a sequence using a combination of email templates and task reminders. You can customize the delay between sequence steps too. As a result, emails and tasks execute when you need them to.
In your HubSpot account, go to Automation > Sequences.
Click on Create Sequence.
In the left panel, choose Start from scratch or select a pre-made sequence template. Then, click on Create sequence.
Go to the sequence editor, click on the edit pencil icon and type a name for your sequence.
Add Steps to your Sequence
To add a step, click on the + icon.
In the right panel, choose an action. You can either add automated emails or create task reminders.
To send an automated email, click on Automated email.

To make a new template, click on Create a new email template.
To sort your current templates, click on the Existing email templates dropdown menu, or you can make use of the search bar for finding a template. Then, select a template from the menu.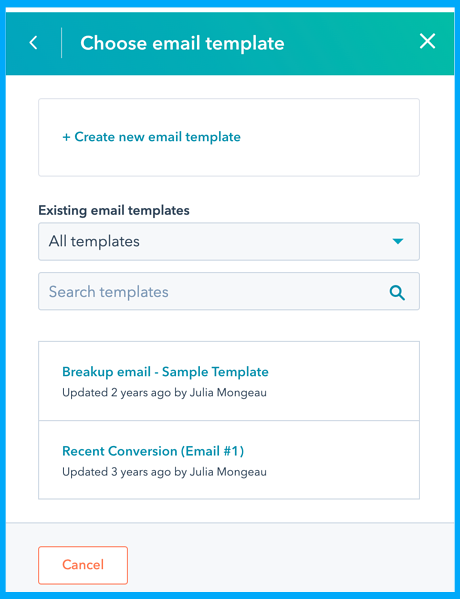 If the automated email is not the initial step in the HubSpot sequence, use the dropdown menu on top of the email template to set the number of days or weeks after which the following email should be sent.

Generate a Task Reminder
To generate a task reminder, click on Email, Call, or To-do.
Enter a title for your task.


To assign the high task priority, click on the Priority dropdown menu.


To attach the task to a queue, click on the Queue dropdown menu.


Enter the task specifics in the Notes field. Use the toolbar at the bottom side to format the text, add a link, or insert a snippet.


If you're making an email task reminder, you may add an email template to the follow-up task. As soon as the contact record's task is complete, the email template will automatically move to the email composer window.

Click on Add email template.
To view your existing templates, click on the Existing email templates dropdown menu, or you can also use the search bar to search for a template. Then, pick a template from the list.


Click on Add.


Set a delay using the dropdown menu to set the number of days or weeks before the task gets executed. Or, in case you want a task to run as soon as an email is sent, select Create task immediately.

By default, a sequence will pause till the task is complete. Pausing a sequence guarantees that the sequence won't continue if you require more time to finish a task. To resume the sequence if the task is unfinished, select the Continue without completing task checkbox.

You can add steps till your sequence is complete. Every sequence is limited to five email templates, though you can add as many task reminders as required.
How to edit HubSpot Sequences
You can edit your HubSpot sequence templates, update the tasks in your sequence, and change the sequence settings.
To re-arrange the steps in the sequence, click on the Actions dropdown menu from the top corner and select Move up or Move down.


You can similarly edit the email template or task directly from the sequence.

Click on the pencil icon near the template name.

Edit the email template, then click on Update existing template to add your edits to the current sequence template or click on Save as a new template to create a new template.



To edit the task, click on the Actions dropdown menu on the upper right, and select Edit task.


To exclude a step from your sequence, click on the Actions dropdown menu on the upper right, and select Delete.


When you are done editing your sequence steps:

To apply the changes to the existing sequence, click on Save existing.
To create an entirely new sequence that contains the changes you just made, click on Make copy. Enter a name for your new sequence, then click on Save.
Wrapping Up
Within the fantastic picture of your business's inbound marketing and sales efforts, HubSpot sequences play an imperative role. They cover up the last stretch of ground that decides the number of prospects converted into deals. In that light, it only fits to say that your sales strategy eventually depends on how well your HubSpot sequences are designed and executed since they indirectly affect an enormous segment of your sales revenue.
That's why you should have a proactive outlook that will ensure that your HubSpot sequences are being continuously optimized to keep generating sales.
Straining to get HubSpot's sequences working for you?
Get in touch with us now!
We are HubSpot Certified Diamond Partner Agency and have served thousands of clients worldwide.
Frequently Asked Questions
How do I edit sequences in HubSpot?
To edit sequences in HubSpot, first, go to Contacts, then select a contact, and find the sequence activity on the contact's timeline. Hover over it and click the Actions dropdown. Choose "Edit sequence" from the menu to make changes to an active sequence.
How do I edit a cloned sequence in HubSpot?
To edit a cloned sequence in HubSpot, start by navigating to Automation and then Sequences within your HubSpot account. Find the sequence you want to edit on the sequence dashboard, hover your mouse over its name, and click on Edit. If you need to change the order of steps in the sequence, locate the Actions dropdown in the top corner of the email or task template and choose Move up or Move down. This allows you to customize and adjust the sequence according to your preferences.
How do I add a contact to a sequence in HubSpot?
To add a contact to a sequence in HubSpot, first, go to Automation, and then click on Sequences in your HubSpot account. On the Sequences page, find and click on the specific sequence name. Next, click on Enroll contacts at the top right of the sequence page. In the right panel, you can select the checkbox next to the contact's name that you want to enroll in the sequence. This process allows you to automate your communication with that contact using the chosen sequence of actions and messages.
How do I track a sequence in HubSpot?
In HubSpot, tracking a sequence is a simple process. First, go to Automation and then Sequences in your HubSpot account. Once there, you'll find the Manage tab. Here, you can assess the performance of your sequences. Look at the Reply Rate and Meeting Rate columns to see how well your sequences are doing. This data helps you understand how effective your outreach efforts are and whether adjustments are needed for better results. It's a useful way to keep tabs on your communication strategies within HubSpot.