Indeed, happy and successful customers are the best source to enhance your new business. How? Think about your last purchase. What was the first thing you did before buying a product/ service?
Most likely, you read the customer reviews. It's not only you who read reviews; almost 90% of the customers prefer reading online reviews of the customers before making any purchase or visiting a business.
So, if you are not asking your customers to write reviews on your website or reaching out to your promoters, then you are missing something huge source that might escalate your sales and improve your business productivity.
Also, if you want to be sure that you are delighting your customers and creating a strong relationship, then you need to understand what they expect from you and interact with them accordingly.
Now you might be thinking about how to do that? Well! This is done by adding a survey form to your website. Asking the right questions at the right time is the easiest way to make improvements in every step of the buyer's journey.
Well! If you are facing hassle in creating one for your business, then HubSpot Survey forms will help you build satisfied customers.


What is a HubSpot Survey Form?
HubSpot survey form is just similar to other HubSpot forms through which you can gather the information and get the customer's feedback based on some series of customer feedback.
In most cases, questions are added based on assumptions that will clear the concerns of your target customers and allow you to make stronger relationships with them.
By gathering their information, you will get a clear idea of how your customers feel about your products and services. Their experience can help you improve your satisfying score and allows you to achieve the business objectives.


Importance of HubSpot Survey Forms
HubSpot survey forms are one of the best ways to figure out customer issues and improve customer satisfaction.
Still not satisfied? Take a rundown at the benefits of incorporating survey forms on your website/email.
Improve your customer retention
By creating survey forms in HubSpot, you can easily make your customers feel connected with you. Say, if they enter any unsatisfying feedback, then you can work on that particular part to make the product customer-friendly.
If you will instantly resolve your customers' queries and offer them the best service, customers will become more loyal to your brand and love to work with you for a longer time. So, start utilizing HubSpot survey forms to improve your customer retention.
Improve Customer Experience
If you want to improve your customer experience, then never ignore your customer feedback.
Well! It's not easy to find out what your customers think about you and your product.
But survey forms will help you get a clear idea and keep your customers happy. If you keep your customer expectation into account, it will increase your customer loyalty towards your brand, which will further improve your brand reputation.
Helps in making informed Decisions
The information you will receive from your HubSpot Survey form will help you make major decisions. Knowing how your customers feel will help you measure your product's success, which is difficult to evaluate.
So, for making an informed decision, start gathering real-time information about your customers by using HubSpot survey forms in the right way.
Can easily identify happy Customers
By adding survey forms, you can identify how happy your customers are and who can further become advocates. Your happy customers will further recommend your products/services to their friends and family, which will improve your rankings.
So, if you want to turn your customers into promoters, consider your customers' responses/feedback as a priority which can be gathered by adding survey forms on your website.


Types of Survey Form
From collecting the customer's information to measuring their satisfaction, HubSpot survey forms play a great role. Different types of survey forms help marketers gather customer reviews and help salespeople and business owners achieve their goals without any hassle.
Now you might be thinking about what are different types of survey forms and which will help you achieve your goals. Let's have a look at a few of them.
Customer Feedback Survey
Customer feedback survey forms will help you get one step closer to your customers by understanding how customers discover the products and services. The information filled in by them will help you know which factors you need to work on to create a satisfactory customer experience.
Well, these types of customer survey forms will help you drive growth by influencing the customer service process, marketing campaigns, and website user experience.
So, if you want to know how your customers feel, a customer feedback survey form will help you hit your target.
Net Promoter Score Survey
Net Promoter Score Survey comes into play when you want to know the number of customers who love your product/service. The primary objective behind adding this survey form is to know which of your customers are satisfied with your brand and ready to refer to others.
According to the report, 92% of customers believe in product/service, which is referred to by their friends or relatives more than advertising.
So, if you want to improve your word-of-mouth marketing, then start measuring your potential reach and exposure by adding a Net Promoter Score survey form on your web page/email.
Market Research Survey
It is another type of survey form that will help you in educating marketers and salespeople in knowing behavior, challenges, decisions, preferences of your target audience.
The information you will receive through this form will help you better understand your marketplace and expand your authority on particular subjects.
Also, the in-depth detail will help you evaluate the performance of your product and identify the marketing trends on the basis of the data captured by creating a Market Research survey.
Product or Service Development Surveys
Product or service development surveys is another type which will help you drive future sales. The primary objective behind creating this survey is to measure how future customers will respond to the services or products of your business.
By analyzing the information, you can identify and upgrade the areas which need improvements so that your future customers get satisfied and help you achieve your goals.
So, always identify your goals before choosing a specific type of survey form.


Steps to create HubSpot Survey Form
Now that you are familiar with the benefits and types of survey, let's learn how you can create one in HubSpot accurately without any hassle.
1- Login to your HubSpot account. Hover over the menu bar and click on Services>Feedback Survey.

2- You will redirect to Feedback surveys page as found in the below-added screenshot: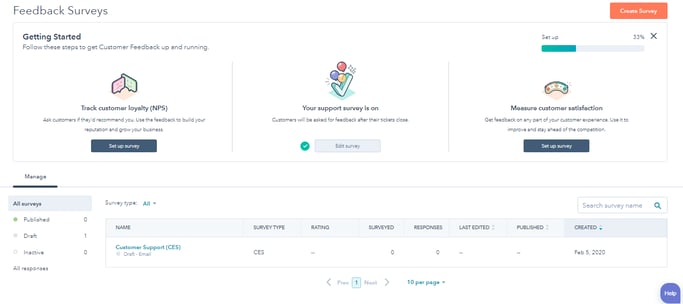 3- Click on the create survey button added on the top right corner of the page and choose the type of survey you want to create.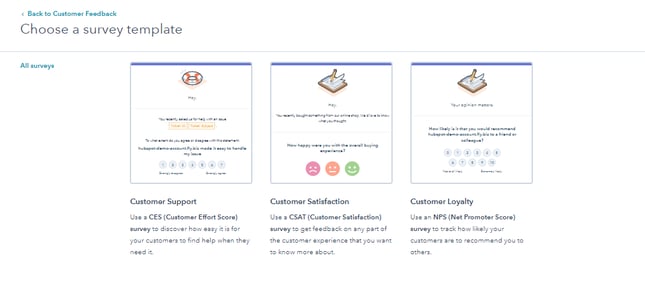 If you have already created a survey form and want to edit, then choose the survey form and click on the edit button.
Once the type of survey is selected, you will be redirected to the page as shown in the below screenshot: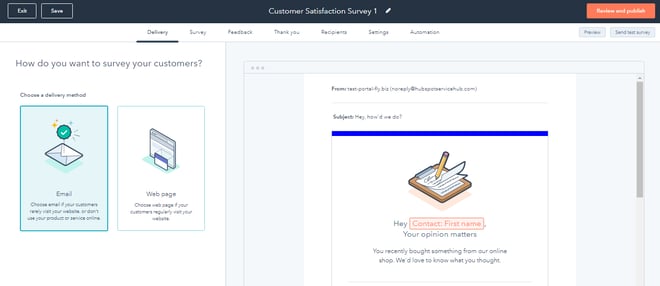 4- Click on the pencil icon added at the top bottom of the page to give a specific name to the survey.

Delivery Tab
5- Before clicking on the next tab, select the delivery method from email and web page.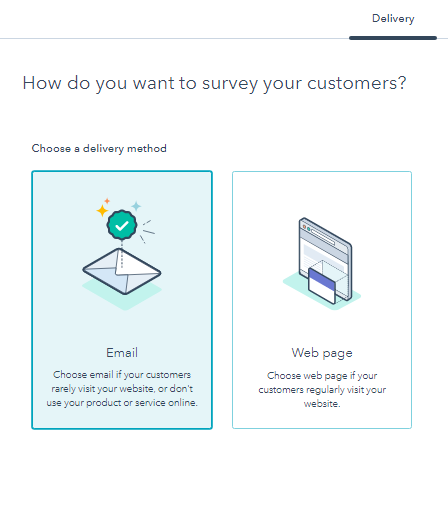 If you choose to email, then click on the survey tab. But if you choose a web page, click on the position tab.
Position tab ( For Web page Survey)
6- Navigate to the left side of the page and select a type for the location of your web page survey. You will see a page preview on the right side of the page.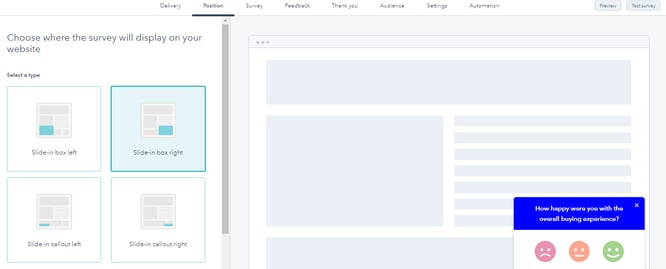 7- To continue, navigate to the next tab.
Survey
(Email Delivery)
8- If you have chosen an email delivery method, enter all the information in the respective fields. Like: survey language, company name, from the name and from the address of your survey, and subject line of the survey.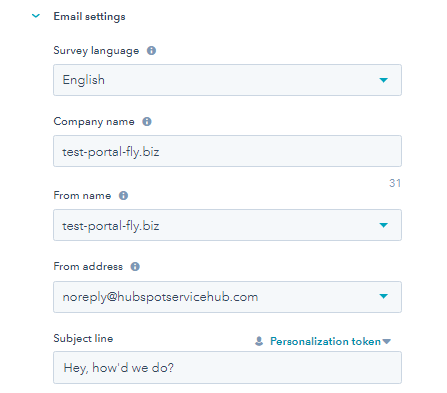 9- Expand the email body and update greeting, introduction and survey questions according to the requirement.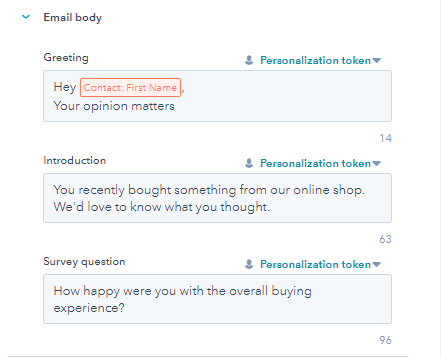 10- Click on the theme section and choose the image color according to your requirements. If you want to upload an image, don't forget to click on the switch on the toggle button for the featured image.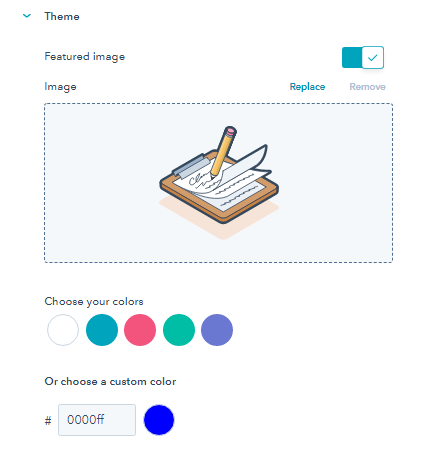 11- You check how it looks, click on the preview button added in the right panel of the page.
12- Click on the Feedback tab to continue.
(Web page Delivery)
13- Customize the survey by updating the information in the provided fields, including survey language, survey questions, and color.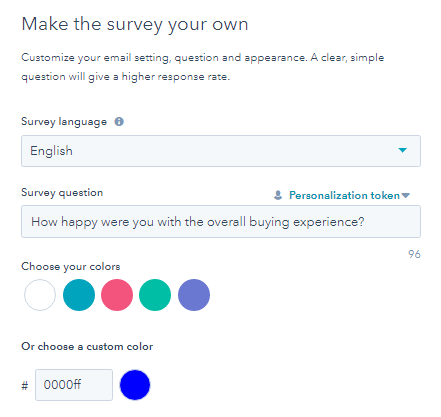 14- You check its preview in the right panel of the page.
15- Click on the Feedback tab to continue.
Feedback
You need to customize the feedback to understand customer response deeply.
16- Click on unhappy and enter the follow-up question to know why they are unsatisfied.
17- Click on neutral and enter the follow-up question to know the reason behind their experience.
18- Click on happy and enter the follow-up question to know which thing made them happy.
19- Now click on more button and choose Thankyou button.
Thankyou
20- Customize your thankyou message by updating the images, header text, and body text.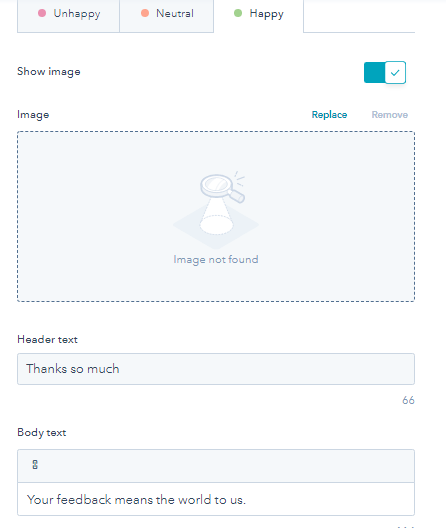 21- Preview the message in the right panel of the page and then click on the Audience tab.
Audience
22- Choose the audience who you want to fill the survey from all visitors, become a custom date, start from scratch, and static lists.


23- Update all the fields in the respective areas like selecting a property, updating criteria, creating a list of the audience, etc.
24- Once you have set all the filters, click on the settings tab.
Setting
25- In case you choose email delivery, then you have to decide the time when you want to send the survey. You can also add a delay when you want to send the survey again once the recipient meets the criteria.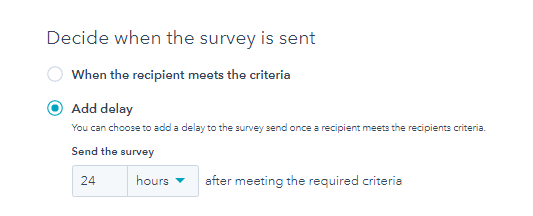 26- Add the users or teams to whom you want to get notified about the responses.

27- But if you have chosen web page delivery option then in settings, you have to update the fields like:
The number of web pages the survey should appear on
Time on which you want your survey to appear
Whether users can retake the survey
Notification, mobile screen option, etc.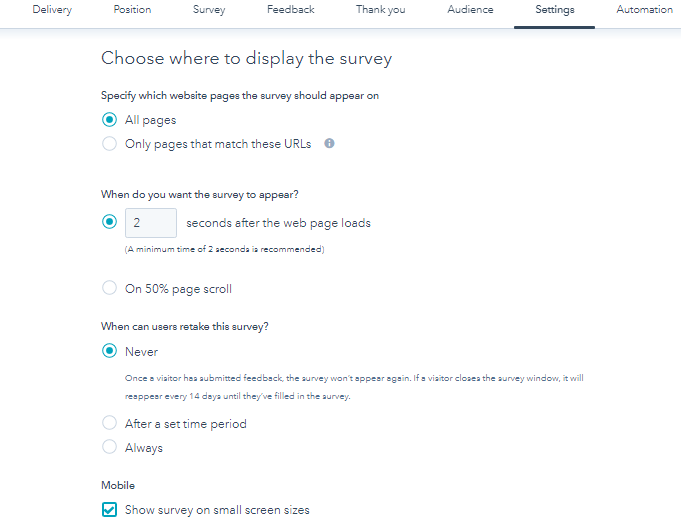 28- Once all the information is updated click on the Automation tab.
Automation
29- Click on the create workflow button to set up follow up actions on the basis of follow-up actions in unhappy, neutral, and happy.
30- Choose the actions for the workflows in the right panel.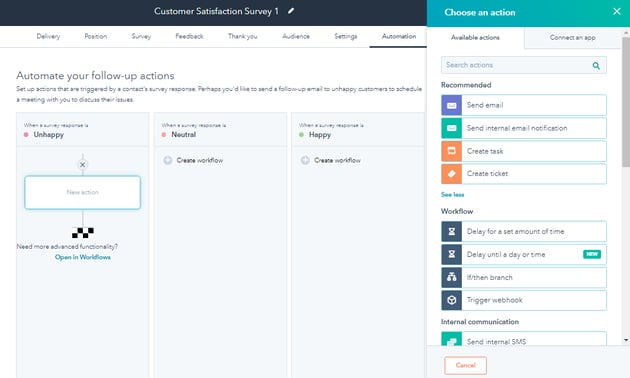 Click here, to know more about HubSpot workflows.
Review and Publish
31- Once you updated all the information in the respective tabs, make sure you review your entire survey form by clicking on the preview button.
32- You can also send a version of the survey by clicking on the test survey option, which is added in the upper right corner of the page.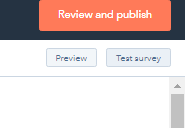 33- Once you are all done with the survey, take your survey live by clicking on the Publish button added at the top right corner of the page.
Useful reading- Guide to effectively use HubSpot Pop Up Forms for better conversion


Best Practices for Customer Satisfaction Surveys
Now that you know how to create a survey form in HubSpot let's go through some best practices by considering which you can create the form most effectively and in the best possible way.
Always choose the right survey type that best suits your team goal.


Make sure the questions you add in your survey are delightful for the audience and help you receive quality feedback.


Never ask too many questions in your survey as it may leave a negative impact on your audience.


Make sure you deploy the survey at the right time because sending surveys to the customers at the right moment will help you receive successful results.


Try to collect regular feedback from your customers to improve customer experiences and make stronger bonds.


Try to frame the survey questions in different ways to grab the visitors attention.


Don't forget to test your survey whenever you plan to take it live. This tactic will not only help you create effective surveys but also allows you to improve your survey experience.


Follow up with the audience to build trust and make sure your customers continue to provide feedback.
In a Nutshell
Indeed, there are countless ways to understand how your customer responds to your services/products, but information gathered through the survey form allows you to understand your customer expectations better effortlessly.
There are no two opinions that gathering customer feedback is the key to achieve business goals. So, what are you waiting for? Always keep your customers' needs at the forefront by gathering the details through HubSpot survey forms.
Hopefully, all the information added above will give you a clear insight into the HubSpot survey form, but still, if you have any queries or want to know something more about HubSpot, please contact us.
We are HubSpot diamond partners and ready to provide the best services 24*7 at affordable prices.
Frequently Asked Questions
How do you create an effective customer satisfaction survey?
Creating an effective customer satisfaction survey involves several key practices. First, keep it short and focused, only asking questions that align with your objectives. Use smart, open-ended questions that encourage detailed responses and ask one question at a time. Ensure consistency in rating scales and steer clear of leading or loaded questions that could bias responses. Incorporate yes/no queries for clarity and be specific while avoiding making assumptions. By adhering to these best practices, you can design a survey that accurately measures customer satisfaction and provides valuable insights for improvement.
Can you use HubSpot for surveys?
Yes, you can use HubSpot to create surveys. HubSpot has a special tool that helps you ask your customers questions to understand what they truly think. You can make these surveys just the way you want, with different kinds of questions and even change how they look with your own style. This means you can get feedback from your customers in a way that suits your business best. So, if you want to know more about what your customers are thinking, HubSpot can help you do that with their survey tool.
How can I use HubSpot more effectively?
To use HubSpot more effectively, first, learn how to use the CRM properly. It's essential to understand its features and capabilities. Second, maintain clean and accurate data within HubSpot, ensuring your reports are trustworthy. Lastly, integrate your email inbox and calendar with HubSpot. This provides you with valuable tools for scheduling and tracking meetings, streamlining your workflow. By following these steps, you'll maximize the benefits of HubSpot CRM and improve your efficiency.
What is the HubSpot survey function?
The HubSpot survey function is a tool that helps businesses gather feedback from their customers. With this function, you can create and conduct surveys to measure customer satisfaction. These surveys ask customers about their opinions on your business. You can send these surveys through email, chat, or display them on webpages with your HubSpot tracking code. To access this feature, go to your HubSpot account, click on "Service," and then select "Feedback Surveys." This tool is valuable for understanding how your customers feel about your products or services, which can help improve your business in the future.