Are you still facing challenges in automating your emails or streamlining your sales campaign using HubSpot? Are you looking for the best way to send multiple messages to prospects by spending minimum time and effort? If yes, then you are definitely in the right place.
In this article, you will get an in depth-understanding of 2 different and fantastic ways to automate emails and streamline sales via HubSpot workflows and sequences. Although both ways help you send contacts a series of emails, there are still some differences that you must know.
Indeed, both workflow and sequences can help you track engagement and conversations without any hassle, but both tools intend to serve a different purpose. Your selection of tools will depend on your goals, the current stage of your lead in the buyer personas, and of course, your HubSpot subscription access.
Now, without any further discussions, let's scroll down to understand the key differences between HubSpot Workflow and HubSpot Sequences.


HubSpot Workflow vs. Sequence
Let's get started…
HubSpot Subscription Access
Just started with HubSpot and want to avail the benefits of its automation tool, then you need to understand its plan. Click here to know more about HubSpot pricing and packages.
Well! You can send automated emails by creating workflows only if you have a marketing hub professional or enterprise subscription.
Whereas, sequence tool can be used by the people who have the access for:
Sales Hub Professional, or Enterprise, and
Service Hub Professional, or Enterprise users who have a connected personal inbox, including Office 365, G Suite, or IMAP.
If you have access to free CRM, you will not be able to benefit from automation. You have to upgrade your plan to grow more.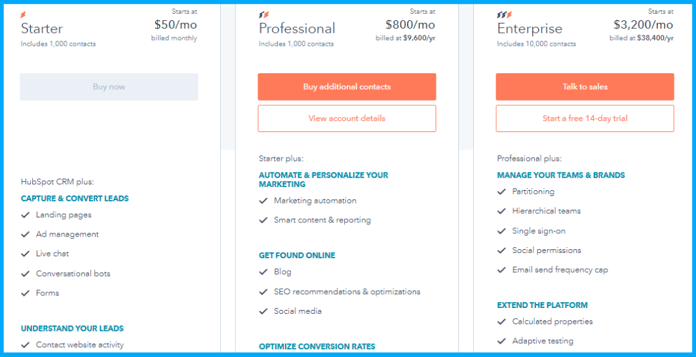 Types of Emails
As we all know, there are different types of emails, which is one of the major differences you must be aware of.
Basically, with HubSpot workflow, you can create personalized marketing emails which can further be saved for automation. It can be a contact-based, quote-based, company-based, ticket-based, or deal-based workflow. This workflow tool will allow you to send and streamline your marketing emails directly through HubSpot.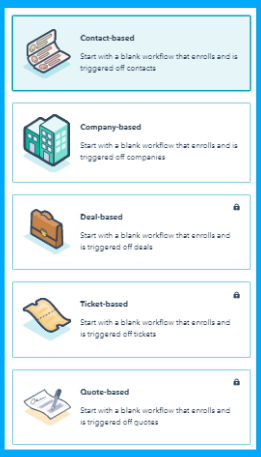 But while using sequences, you need to send emails from your connected inbox. It will allow you to send a series of email templates to your contacts.

Also, while creating sequences, you always have to use sales email templates, but you will get an opportunity to use different templates and send marketing emails in bulk in the workflow.
Moreover, you can create an automated email with the regular email editor or the drag and drop editor. To be more precise, you will find this feature in the design manager. So, start generating more leads by sending the right emails by choosing the right HubSpot tool.
Tool Usage
If you want to activate your business goals more efficiently, then you need to understand which tool is best used for your purpose.
Workflows are used to create a foundation for leads that are new to your sales funnel and need to understand your concept thoroughly.
Your lead can be from your contact list or the one who entered their email address to download your form, eBook, whitepaper, or other incentives. By creating an accurate workflow email, you would naturally nurture your lead and convert them into your customers.
Well! Now you might be thinking about when to use HubSpot sequences. Prefer using sequences only when you have a specific offer for a particular lead or a group of leads.
These leads include the one who has shown their interest in your specific product/service. This type of email inspires them to make their decision and helps your sales team convert leads into customers.

To get the desired result and higher engagement and responses, it's vital first to understand your business requirements and then craft emails.
Enrollment Method
Automatic enrollment and manual enrollment are two different methods that will help you meet specific trigger criteria.
Sequences consist of more targeted emails, so it only offers manual enrollment, whereas workflow allows both automatic and manual enrollment.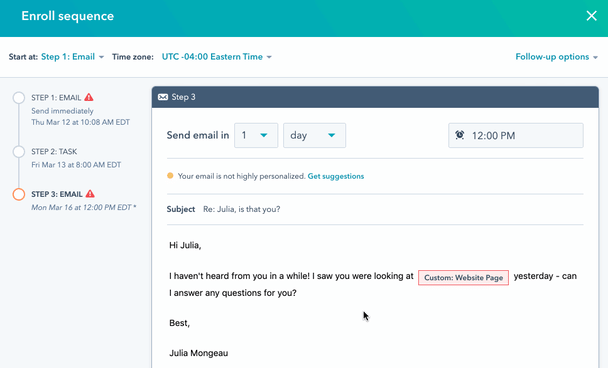 Source: HubSpot
In the workflow, you can trigger and enroll your contacts to meet those triggers. Also, you can enroll your contact manually and can even create your contact list in HubSpot.
If you are new to this tool and don't know how to set your workflow enrollment trigger, then no worries, this HubSpot knowledge base article will help you perform the task perfectly and without any hassle.
Engagement Tracking
For the better engagement of people, you need to track each email and reply right away. Yes, you are right! Tracking of the engagement is another important factor on the basis of which both workflow and sequence can be differentiated.
In the case of a sequence tool, you don't have to unenroll contacts manually from the series of emails because once the contact replies to an email or book a meeting, then it will be done automatically.
But if we talk about workflows, it does not unenroll contacts automatically. If you want to stop the workflow's execution, you can always take the help of goal criteria. But if we talk about workflows, it does not unenroll contacts automatically. If you want to stop the execution of the workflow, then you can always take the help of goal criteria.
It cannot be denied that marketing and sales emails track things differently. Sales emails allow you to track the replies of the contact. It is the reason why sequences can automatically unroll the contacts.
But, the replies on marketing emails cannot be tracked. In case there are some replies, it will be sent to the inbox. As there is no linkage between this inbox and HubSpot, so it's impossible to track marketing email replies.
Useful reading: How to use goals in contact-based workflows.
Useful Tips-
Include a CTA (call-to-action) before the user clicks on a reply. It will help you to track the replies on the marketing emails.


To send emails via workflow with plain formatting, you can create emails or use email templates such as "Email" or "Simple Follow Up Email."


You can set a workflow goal or can also add CTA to the email as a goal criterion to unenroll contacts from the email series automatically.


You can also use meetings booked as a goal criteria to enroll contacts from workflow email automatically.

In a Nutshell
Automating emails will increase the number of your conversions and help you make better customer relations. So, you should start using HubSpot automation tools like workflows and sequences in the right way.

Hopefully, the above-added information will help you gain a deeper insight into workflows vs sequences in HubSpot. Now that you have a clear insight of each tool, you can avail its full benefit for which you have access.
If not subscribed yet, then what are you waiting for? Go and upgrade your plan to avail of more services.
But still, if you face any kind of problem in creating workflows or want to avail other HubSpot services, head over to our experts and click here to start a conversation.
Frequently Asked Questions
Should I use a workflow or a sequence HubSpot?
The choice between using HubSpot Workflows and Sequences depends on your communication goals. If you need to send the same message to multiple contacts, go for Workflows. For personalized communication to contacts already engaged with your sales team, Sequences are better. In simple terms, Workflows handle mass messages, while Sequences manage tailored, one-on-one interactions, making them ideal for nurturing leads and maintaining personalized connections. So, pick Workflows for group outreach and Sequences for individualized follow-ups.
What is the difference between sequence and automation on HubSpot?
In HubSpot, the difference between sequences and automation lies in how you communicate with leads. Sequences are like personalized conversations; they're ideal for your sales team when they want to send specific follow-up messages. You manually control when and what gets sent. On the other hand, automation is more generic; it delivers the same messages to all prospects without much personalization. In short, sequences are about tailored, manual communication, while automation is about sending uniform messages automatically to all your prospects.


Does HubSpot have workflow automation?
Yes, HubSpot provides workflow automation features. Workflows in HubSpot let you automate tasks in your marketing, sales, and service processes. You can set criteria to trigger workflows, and when those criteria are met, the system automatically enrolls the relevant records. Once enrolled, the workflow performs a sequence of actions on those records, streamlining and simplifying tasks for more efficient operations in your HubSpot account.
Is HubSpot an automation tool?
Yes, HubSpot is an automation tool. HubSpot's marketing automation software simplifies your marketing tasks, making your campaigns more effective and efficient. It utilizes features like workflows, chatbots, email triggers, and more to connect with your desired audience through personalized messages.