"Great vision without great people is irrelevant." - Jim Collins.
It is crucial to have quality talent in your team as they will help you expand your business and let you achieve great success in this cutting-edge industry.
Did you get a glimpse of Inbound Recruitment with the above phrase? If not, then you are at the right platform.

This playbook will get a complete roadmap of inbound recruitment that we have practiced in our agency. Furthermore, after learning the whole process, you'll easily implement the inbound recruitment strategy and quickly grow the number of interviews in your organization.
Ready? Let's get started.
An explanatory View
What is Inbound Recruitment?
Inbound Recruiting a name itself defines it meaning as it is the best recruitment marketing strategy where you can proactively attract candidates with the aim to convince and select them as their next employer.
Your objective in inbound recruiting is to hire deserving and talented candidates through the process of Attract, Engage, and Delight.
Before explaining Inbound Recruitment in detail, you should know about Inbound marketing first as this Recruitment process is totally based on Inbound Marketing Methodology.
What is Inbound Marketing?
Inbound Marketing is the best strategy where marketers are focused on developing and promoting content in the form of blog posts, eBooks, podcasts, etc., that attract buyers instead of doing cold calling to the clients or paying for advertising.
The primary objective of Inbound Marketing is to create valuable content people care about and which attracts them to your site rather than the other way around.
The best way to generate traffic is to maximize the visibility of content on search engines and other websites to boost its ranking in search results.
Hope, I was successful in making you clear the fundamentals of Inbound Marketing as it is the base of the Inbound Recruitment process.
Now, Let's proceed with our journey of Inbound Recruitment.
Inbound Recruitment vs Outbound Recruitment
Two main methods are usually used for the hiring process.
Outbound Recruitment Process

Inbound Recruitment Process
Let's start with the Outbound Process.

What is Outbound Recruitment Process?
Outbound Recruitment Process is a recruiting strategy where you first need to search for the candidate and then contact them when certain new positions arise that you need to fill. Your actual aim in outbound recruiting is to jump directly to the application stage and offer the job opening you have available.
Outbound hiring is generally considered a short-term recruiting solution as it is only used when a need arises. "Outbound recruiting" includes a recruiter or a team of recruiters hunting down deserving candidates to fill open positions.
What is the Inbound Recruitment Process?
Inbound Recruitment Process is the best-recruiting strategy where you can attract, engage, and delight your candidates, which helps you generate leads or in second word we say; it helps you hire more deserving and talented candidates who are interested in your company and attracted toward you.
Your goal for inbound recruiting is to draw the candidates through the three stages of the recruitment journey: Awareness, Consideration, and Decision.
If you are looking for a long-term solution to enhance your recruiting and hiring strategy, then inbound recruiting is the best way to go. With an inbound recruiting strategy, you can build and promote your brand for Employers who will constantly grow your territory of high-quality applicants.
If you are still using an outbound recruiting strategy and not getting any results, then start thinking about implementing inbound recruitment. Don't worry! We are here to help you out in this process.
In simple words, the inbound Recruitment process attracts the candidates, and they automatically come to you, but in Outbound Recruitment, you have to search for the candidate and do proper R&D for that.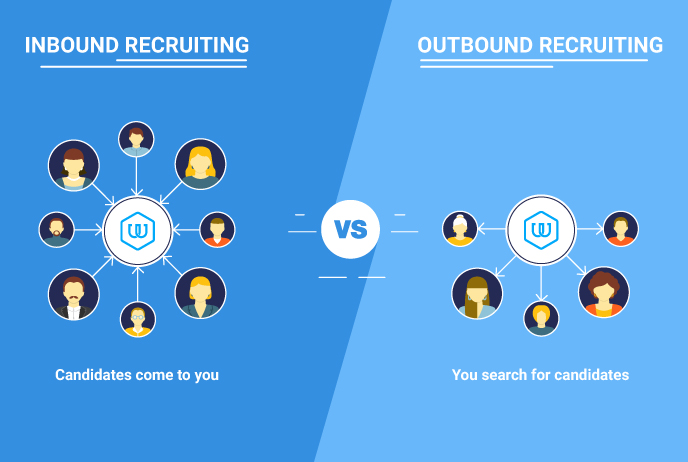 Want to know more? Scroll down and read the comparison.
| | | |
| --- | --- | --- |
| S.No. | Inbound Recruitment | Outbound Recruitment |
| 1 | By using this recruitment strategy, you attract the candidates and choose them as your next employer. | By using an outbound recruitment strategy, you have to search for the candidates and contact them to fill your employer's gap. |
| 2 | Long term strategy | Short term strategy |
| 3 | It is a marketing method | It is a sales method |
| 4 | Good enough in building trust and relationship with audiences | Lacks in developing a relationship with the candidates |
| 5 | Build a pool of high-quality job candidates | No surety for the quality of hired candidates |
Hope, all your doubts are clear regarding inbound and outbound recruitment. If you are still confused and want to know more, you can contact us to take expert advice.
Now, let's focus on the process of Inbound Recruitment.
Inbound Recruitment Process
If you are looking for a long-term strategy to improve your recruitment and hiring productivity, Use the Inbound Recruitment Method.
To achieve the recruitment objectives, We have also implemented the Inbound Recruitment Process, as discussed in the previous chapter.
However, I personally recommend using inbound recruitment in your company because we are currently using this process and observed a "Huge "growth in hiring more talented candidates. The recruited candidates helped us to increase our productivity and generate more revenue.

Inbound Recruitment Process of webdew
As I have already explained the detailed process of Inbound Recruitment. Here I am telling you the practical scenario of inbound recruitment which is being implemented in our company.
For every firm, setting business objectives are essential. Therefore, we first analyzed our business objective which is to do quality recruitment. To achieve this goal, we have selected the Inbound Recruitment Process.
Let me share the implemented inbound recruitment process.
Chapter 1 - Set a Campaign
As per our objectives and goals, we have set an inbound recruitment campaign in which we have created a candidate buyer's persona.
There are three main profiles for which we wanted to recruit the candidates. It includes:
Design
Development
Marketing
We created a buyer persona of each profile to get an overview of the candidates.
Now, let's pick up one buyer persona that is Candidate- Digital Marketer.
Chapter 2 - Create a Buyer Persona
Are you familiar with the term Buyer Persona? It is basically the semi-fictional representation of the candidates who will help you to achieve your business goals.
Therefore, by evaluating the insights of our company, we have created the buyer persona for all the profiles such as Digital Marketer, Web Developer, Designer to analyze their skills and area of expertise before their hiring.
We have hired only those candidates who have detailed knowledge about SEO, Digital Marketing skills such as Marketing Automation, Content Management, Social Media Expert, etc.
Furthermore, they also have at least 2-3 years of experience from the nearest location.
By considering all the above points, we have created the buyer persona for the digital marketer and punched it into the HubSpot- an all-in-one marketing tool. The below-added screenshot includes some of the buyer personas that were created in our organization.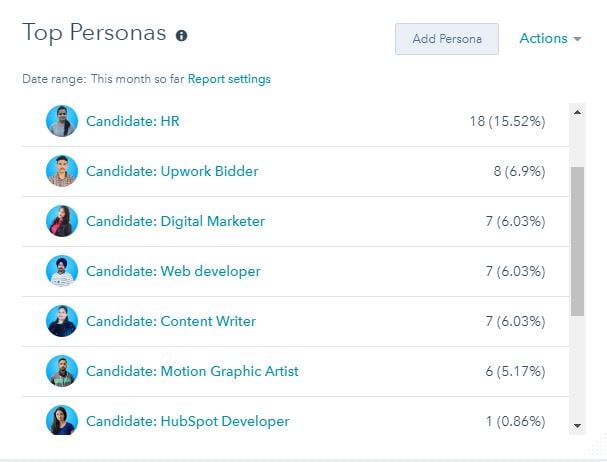 Now let's look at one of the Buyer's personas which are created by our team for the candidate-Digital Marketer: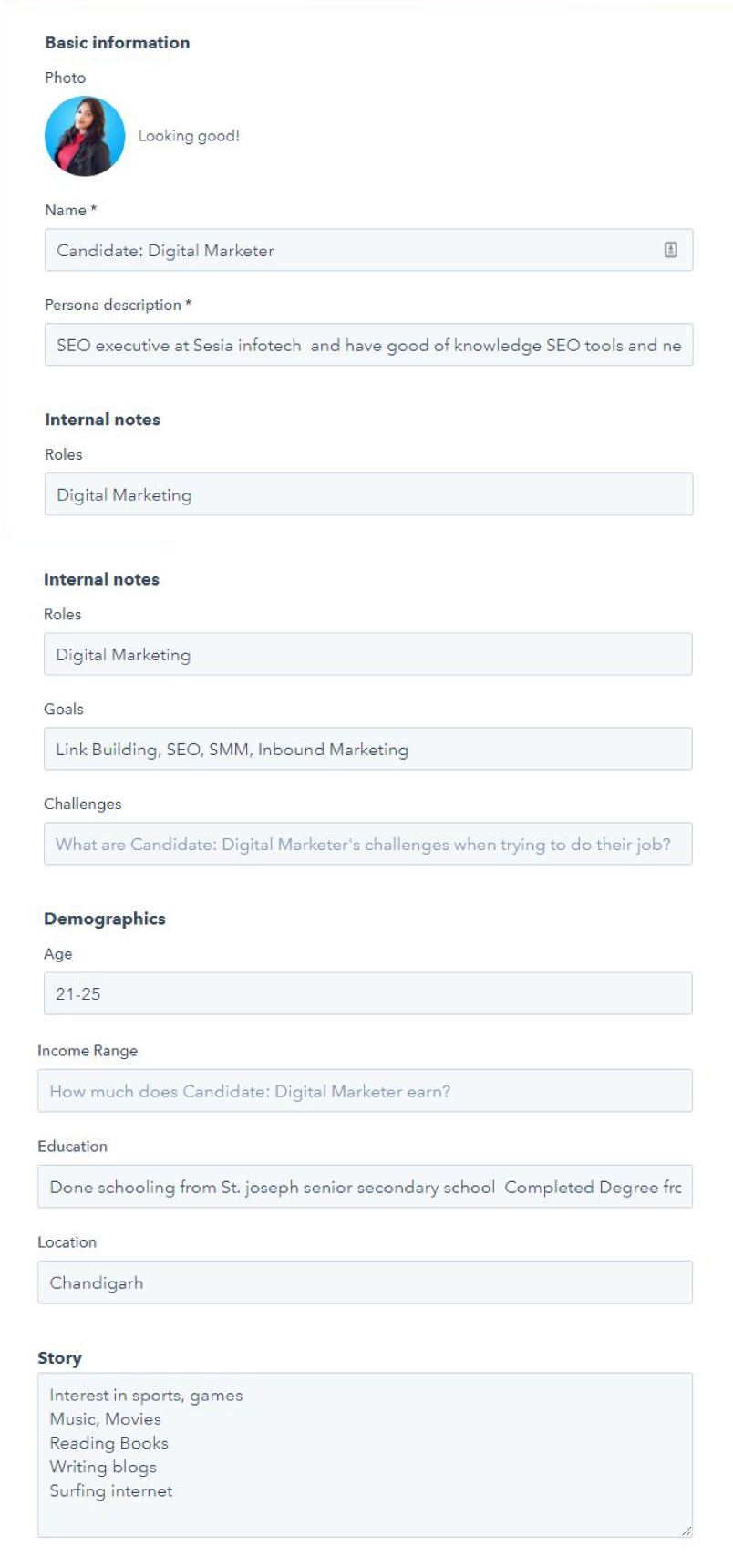 Till now, we have successfully accomplished the most critical stage of the inbound recruitment process. Yes, it's the creation of buyer personas.


Let's move further.
Chapter 3 - Keyword Cluster
Now, we have done keyword research based on high search volume and low keyword difficulty by going through Ahref and SEMRush trial. As per the findings of keywords, we have created a pillar page around which all the gathered keywords related to career are arranged properly, which is called keyword cluster.
The searching of all the keywords is done according to the buyers' stages because it helped us attract candidates through informative content gradually.
Let's take a look at the keyword searching done in all the Buyer's journey stages for the candidate- Digital Marketer.
Awareness Stage: To aware more candidates, we have searched the keyword- Digital Marketing agency. There is a reason for selecting this keyword.
Through this keyword, we wanted to educate the candidates who are interested in doing digital marketing job. So, we have selected this keyword as it has high keyword volume and low keyword difficulty. You can also select those keywords that are aligned with your business objectives and have more ranking.
This keyword helped us tell the candidates regarding the opportunity they have in the field of digital marketing. You can also engage the aspirants towards your organizations by using this specific keyword.
The main focus behind using this keyword is to guide the candidates regarding Digital marketing questions they may have encountered during the interview process. Our content team has framed the articles and blogs to engage more aspirants in our organization by considering all these keywords.
The below-added screenshot is the cluster of our Top-ranked keywords for the candidate - Digital marketer:

Chapter 4 - Content and Socialize
As per the ranked keywords, we have assigned the title to our content marketing team. They have produced attractive and simple content that the candidates can understand and add value to their careers. The added blogs helped us in generating more traffic to our website.
In order to increase the ranking, click-through rates, and searches of blogs, we have taken actual photographs of our employees for featured images. We have observed an approximately 32% increase in the total number of interviews by inserting actual photographs.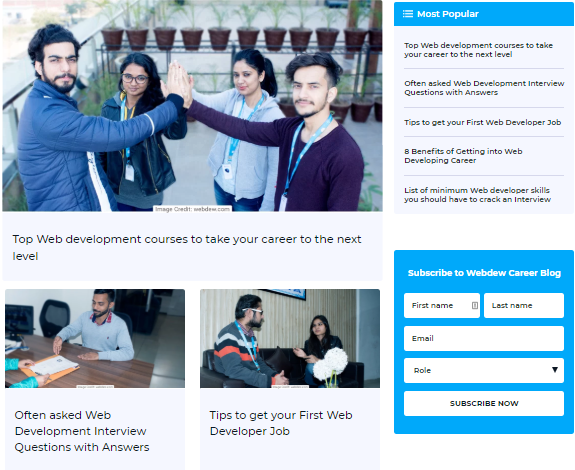 Source: webdew Career Blog
The framed content is then shared on various social platforms to engage more aspirants like Facebook, Twitter, LinkedIn, etc.
Chapter 5 - Create a Funnel
To create a funnel of an inbound recruitment process, we have focused on the Buyers' journey, which is to create a funnel of an inbound recruitment process, we have focused on Buyers journey which is
Awareness- Take the quiz
Consideration- Take the test
Decision- Schedule video interview
For the awareness stage, we have asked the candidate to take the quiz which includes the questions according to the candidate profile for which he/she wants to go for. To create the quiz, we have used google forms. You can take reference from the link and create your own quiz to engage more candidates towards your organization.
Here is the screenshot of the digital marketing quiz.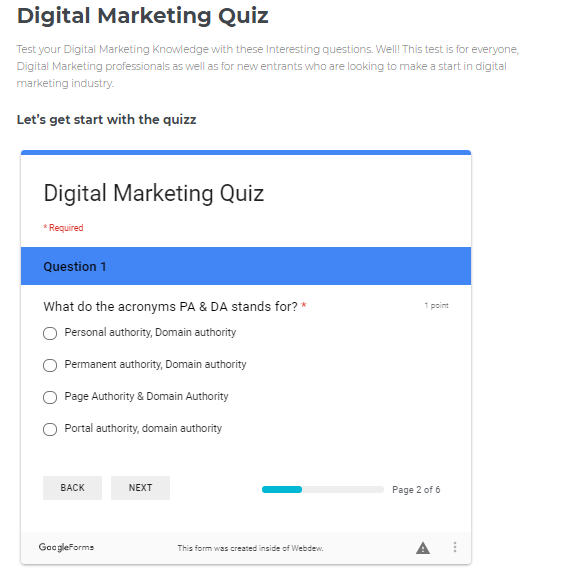 In the consideration phase, we have pitched the specific candidate to take the test.
The test is basically to know that the candidate is familiar with the profile's basic concepts.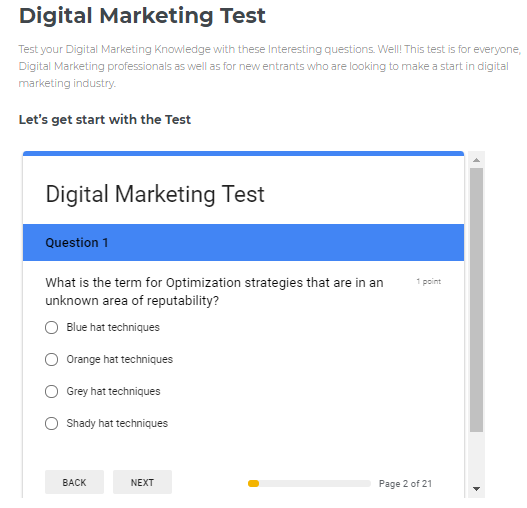 Source: webdew Career Skills
In the third phase of the buyer's journey which is the decision stage, we asked to scheduled a video interview to the candidate who is now going to be our marketing qualified lead.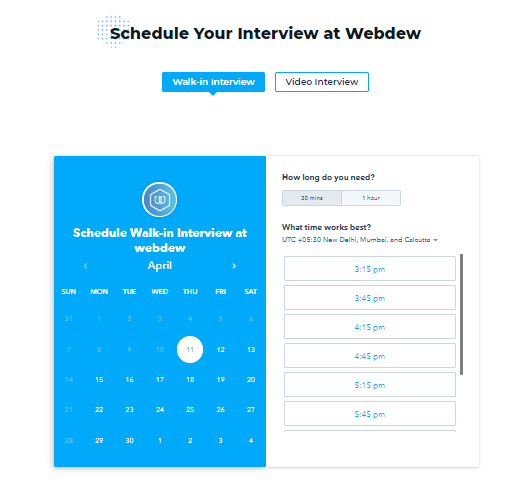 Source: webdew Career
Chapter 6 - Create CTA (Call To Action)
Now, we have created CTA and asked the candidate to take Quiz. Here is the CTA which we have created for the candidate- Digital Marketer.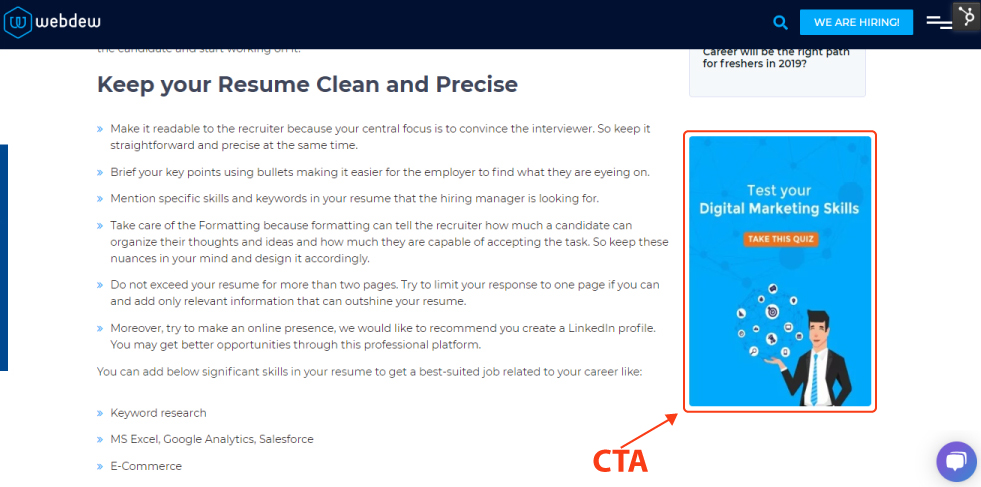 When an applicant will read the content and click on the CTA button, he/she will be directed to the landing page of the quiz. Below is a screenshot of the landing page.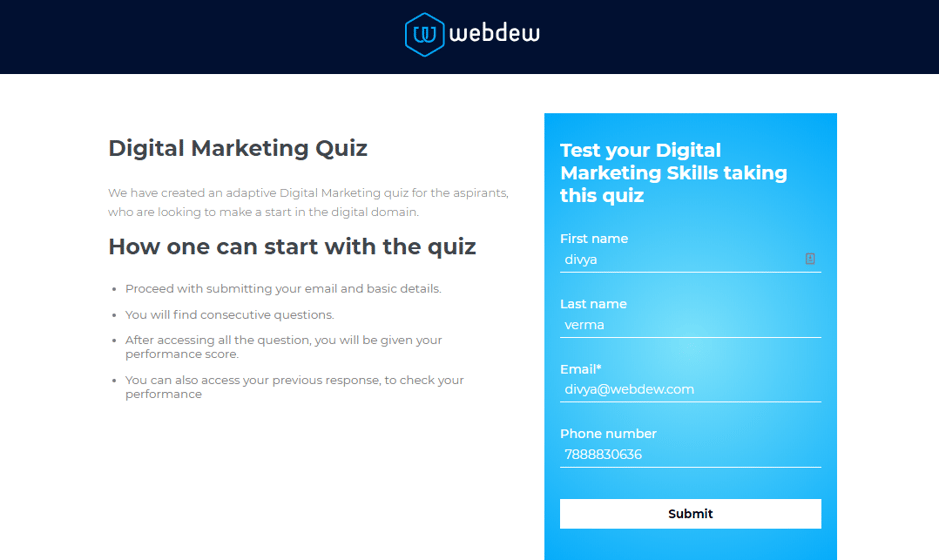 This is the stage at which we can say that the respective candidate is now our marketing qualified lead, "MQL."
Chapter 7 - Lead Nurturing
As we all know that lead nurturing is an important step because it helps to get more interviews within our company by developing good relationships with the candidates at each stage of the Buyers journey.
In the lead nurturing process, we have performed email marketing, etc., by using workflows according to all the profiles in our organization.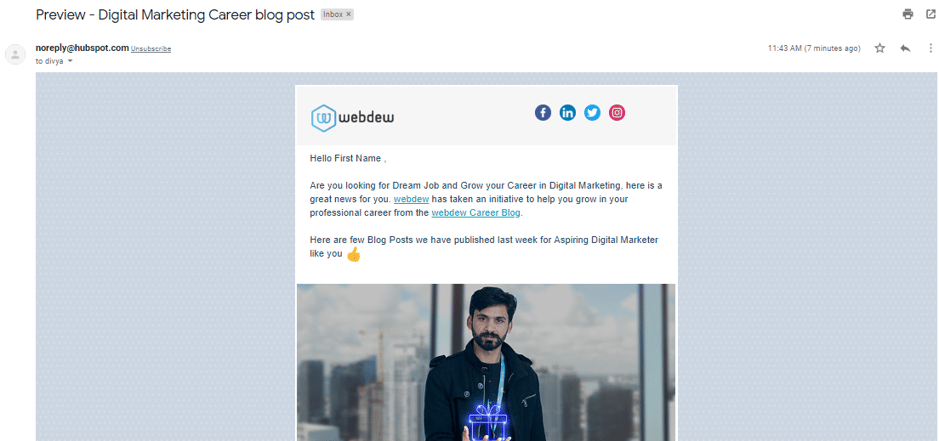 Further, we have worked on the workflow for all the respective profiles to automatically send emails to the prospects for engaging more aspirants to your agency. The below screenshot is the workflow that our team has created for the candidate- Digital Marketer.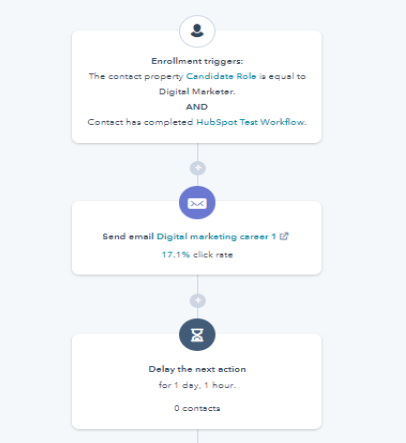 With this, we have finally done the lead capturing successfully!
Now, the responsibility goes to the sales recruitment team. The sales representatives manage all the further processes until the selection of the candidate.
Good enough!
Now let's move to some strategies that our marketing team uses to attract and engage more aspirants efficiently.
Benefits of implementing Inbound Recruitment
There is no doubt that recruitment processes have gone through many alterations and grow with new ideas for developing a good relationship with your talented candidates. Currently, organizations are using a funnel to describe the journey of their leads while hiring the candidate.
The organizations and candidates have also observed improvements in engaging more by using inbound recruitment methodology.
Like these benefits, recruitment marketing has become a hot topic nowadays.
Not only this, there are numerous benefits of inbound recruitment which contributed a significant role to improve the recruitment process in our organization.
By using this strategy, we can search for passive candidates. Let me share some of the advantages our team has observed after implementing the inbound recruitment process and help us to get more candidates to our organization.
1- Improves your Brand Image
Candidates get more attracted to the brands, not to the companies. However, the primary mission of the organization is to make their company a brand.
While achieving this goal, companies are usually facing issues that the candidates who visit the website do not apply for the job. Therefore, you need to think about the strategy to improve your brand image as it will help you to nurture the candidates and get the desired results.
2- Personalize the Content and communicate with the Candidates
Inbound recruitment marketing helps to build a better candidate experience by getting more engagement. Before joining the company, candidates research their organizations and related activities to make the best decision.
By implementing inbound recruitment marketing, you can develop a good relationship and recruit more candidates without barriers.
3- Reduce Hiring Cost
Till now, how much money have you wasted on attracting a talent? Have no idea. I know it can be challenging to track.
Using an appropriate inbound marketing strategy will not only helped us to generate a pipeline effectively but also helps to prioritize the investments in resources and time.
As per the research conducted by HubSpot, inbound recruitment is the most cost-effective system commonly used to fascinate your target audience.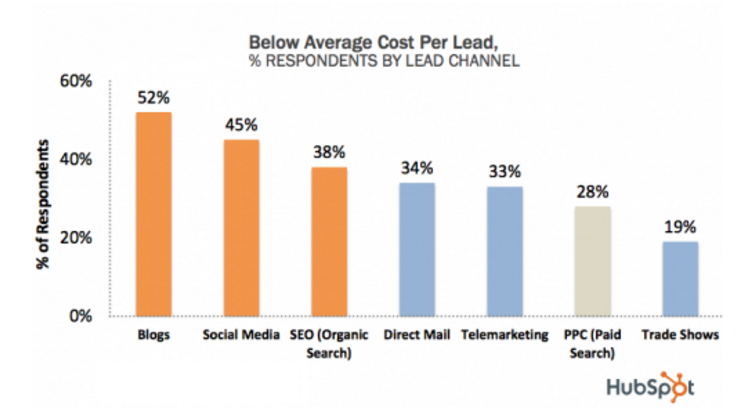 Source: beamery
4- Improves the Quality of Candidates
Are you searching for candidates who could make a positive impact on your organization? If yes, then use inbound recruitment strategies as it will help you to focus on your interested candidates.
A strategic approach will help you to fasten your speed in hiring more candidates by building the pipelines. You can easily update your candidate status by moving it to a proper stage. This will help you to identify your potential customers.
All the identified candidates can quickly end up being hired in the future, which will benefit you and your company.
Hopefully, all the added benefits are sufficient for you to recruit talented candidates by using an inbound recruitment strategy for your company.
Interested to know more about inbound recruitment? Click here
Are you finding the simplest way to implement the inbound recruitment process? Scroll down and read the next chapter in detail.
Bonus Section
Have you heard about Thursday Talk? New to this term? Don't Worry!
Scroll down to have a deep understanding of this section.
"Thursdays at webdew are interactive that boosts and keeps us motivated."
Every Thursday, we conduct an interactive session, where webdian's share their thoughts on captivating topics such as "Workplace etiquette for personal growth."
Now, let me share the main objective behind creating this section. Working a full week looks pretty hectic. Right?
We came up with this idea of #ThursdayTalk to drain anxiety at the workplace, which acts as the antidote for all the corporate worries. Moreover, it helped us upgrade our business productivity because the team members felt more energetic and performed the assigned task with enthusiasm.
That's why we have started- "Stress Busting Marathon."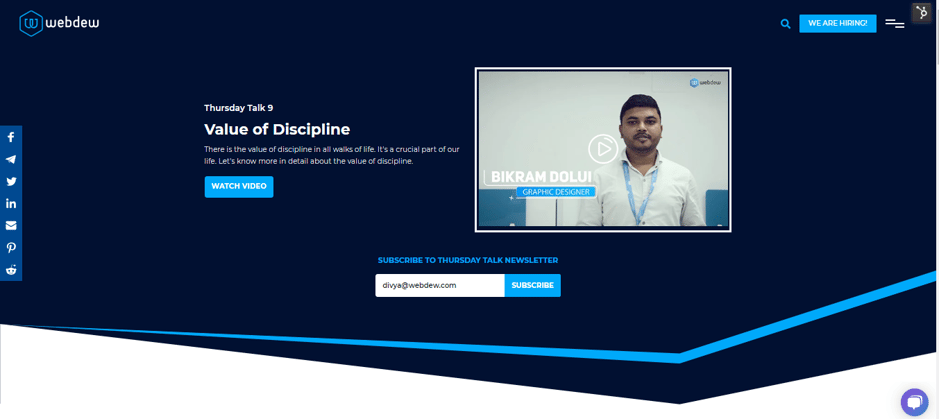 Are you also looking for one of the innovative ideas to engage more candidates towards your organization and motivate your workforce? Contact Us to get some enthralling ideas.
Final Call
Let me summarize you with an overview of this whole playbook of inbound recruitment.
Inbound recruitment is an effective method to create targeted and brand content to increase your employer branding recognition and engage more candidates with future hires.
If you want to nurture more clients with social sites, then inbound marketing is the best way till now as it has been succeeded exponentially.
Hope, you know the importance of inbound marketing in the recruitment process.
So, what are you waiting for?
Implement this recruitment process now and grow your business.
Attract the right talent! Convert it to your leads and manage leads in HubSpot! And hire them at a fast pace to achieve your organizational objectives, increase your business productivity and generate more revenue by coordinating with talented employees of your company.
Contact us to learn more about the art of Inbound Recruitment.
Frequently Asked Questions
What is a recruitment playbook?
HubSpot CRM is user-friendly and offers a straightforward experience. It's not difficult to use in your daily tasks. Furthermore, it's a breeze to create content with HubSpot. Features like landing pages, forms, and emails have a drag-and-drop interface, making content creation a simple process. You can also efficiently create and schedule social media content. This user-friendliness extends to both using and building within the platform, making it accessible for a wide range of users.
What does inbound mean in recruitment?
In recruitment, "inbound" means creating a company image so appealing that job seekers come to you, rather than you actively searching for them. This approach, known as inbound recruiting, isn't a walk in the park. It demands significant effort to build a strong program that draws candidates in by showcasing the company's values, culture, and opportunities, making it a place where talented individuals naturally gravitate.
What are examples of inbound recruitment?
Inbound recruitment strategies are methods used to attract and engage potential candidates for job openings. Examples of such strategies include showcasing employees through articles or blogs, sharing company news on social media, conducting video interviews, creating informative infographics, and sending out regular newsletters. These techniques help build connections with potential job seekers, ensuring that your company is on their radar when they decide to seek new career opportunities.
What is the difference between inbound and outbound recruiting?
Inbound and outbound recruiting differ in their contact approaches. Inbound recruiting follows traditional methods, such as emails and events, to attract applicants. In contrast, outbound recruiting, a more modern approach, employs digital methods to proactively seek out potential candidates. This distinction highlights the evolving landscape of recruitment strategies, with inbound being more passive and outbound taking a proactive and technology-driven stance to connect with talent.