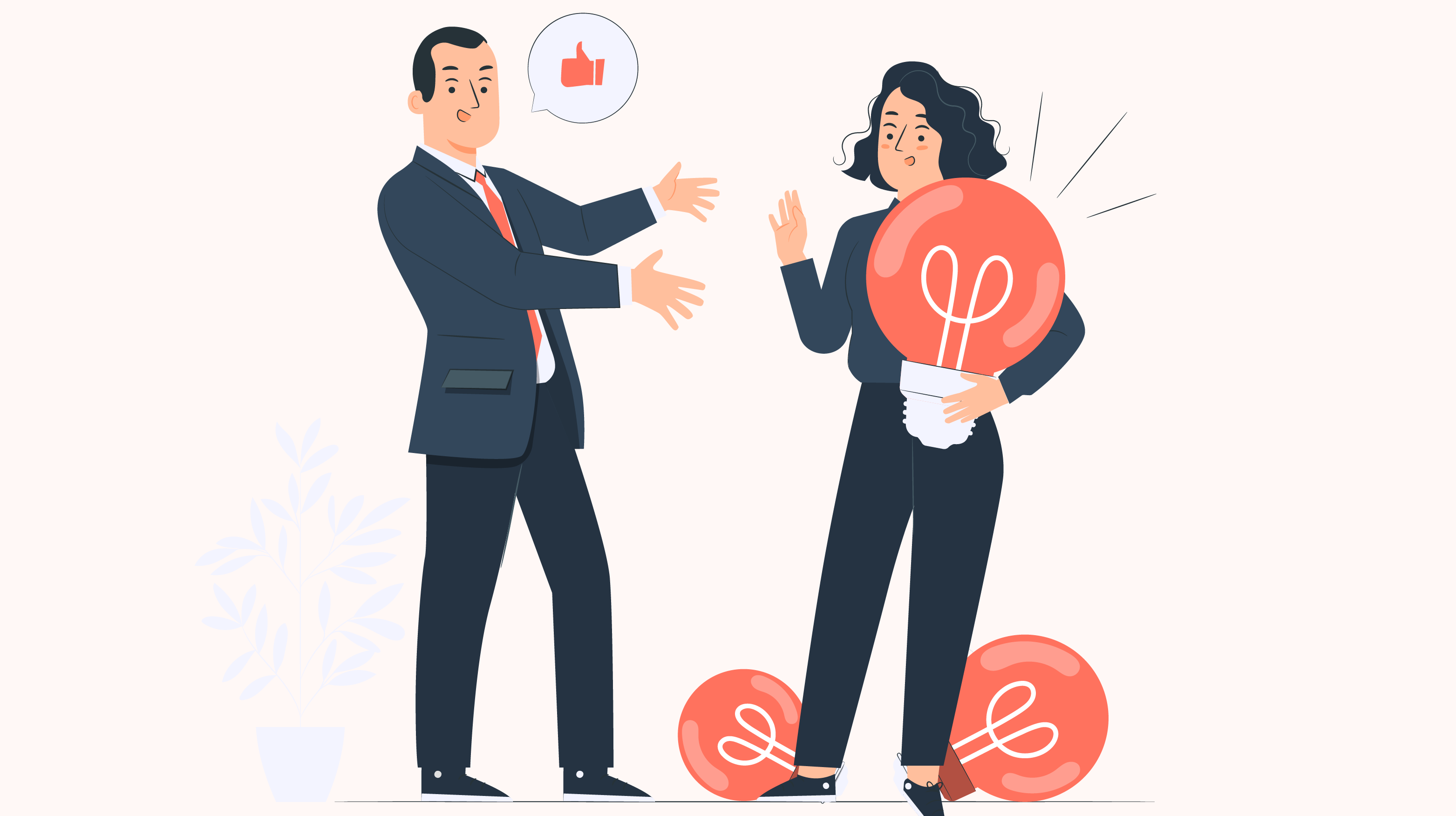 HubSpot for Manufacturing: The Ultimate Solution for your Business
Are you aware of the growing importance of Customer Relationship Management (CRM) in the manufacturing industry?
According to recent reports, the global CRM market in manufacturing was valued at USD 18.97 billion in 2021, with a predicted compound annual growth rate (CAGR) of 5.1% from 2021 to 2028.
The need for efficient customer engagement, the increasing use of cloud-based CRM systems, and the demand for improved supply chain management are driving this market expansion.
As the industry shifts towards Industry 4.0, the incorporation of Artificial Intelligence (AI), the Internet of Things (IoT), and big data analytics are expected to further fuel market growth throughout the forecast period.
With these trends in mind, it's clear that manufacturers who invest in a comprehensive CRM solution like HubSpot will be well-positioned for success in the years to come.
By leveraging the power of these advanced technologies, businesses can optimize their operations, improve customer relationships, and drive growth like never before.
So why wait? Join the HubSpot CRM revolution today and see the results for yourself.
Discover how HubSpot CRM can drive Growth for your Manufacturing Business
Are you tired of struggling to keep pace with the fast-paced world of manufacturing? Do you feel overwhelmed by administrative tasks and inefficiencies in your business?
Look no further than HubSpot - the ultimate solution for your manufacturing companies. From lead generation and customer relationship management to marketing automation and analytics, HubSpot has everything you need to take your business to all new heights.
HubSpot Sales Hub
How can Businesses utilize HubSpot Deals Pipelines Feature to reach their Targets?
HubSpot's Deals feature enables industries to measure potential profits during sales while managing transactions, contacts, and companies in a single place. The software also allows you to associate the appropriate actions with the deal record.
With HubSpot's deal monitoring software, you can track revenue and study your company's sales funnel with great detail. You can apply filters to transactions to receive more specific insights and information and even create one-of-a-kind deal attributes to keep special data and information in the system.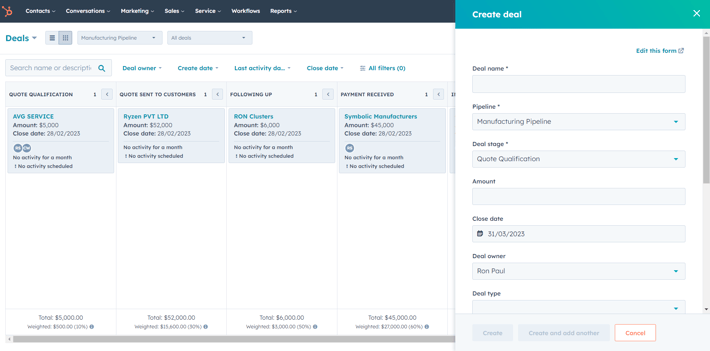 The Deal Dashboard in HubSpot CRM enables the sales team to track their deals and monitor the deal pipeline as it moves from one phase to the next. You can customize the dashboard display to match your specific needs and even save that layout for later use.
Starting a new deal in HubSpot gives you access to all the necessary information, such as property data and related contacts, as well as integrations and deal activity. This allows you to keep a close eye on each transaction and make changes as needed without losing track of them while also maintaining a single source of truth.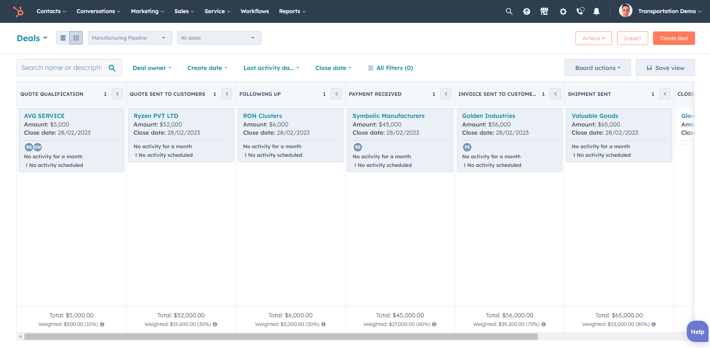 With HubSpot CRM, you can tailor your deal funnel to meet your business's demands by utilizing deal phases to categorize and track your ongoing deals. Each deal step is connected to a probability that indicates the likelihood of the transaction being completed at that moment.
The weighted amount displayed on the board view is calculated by multiplying the total amount in each stage by the stage number, providing a personalized, trackable deal pipeline. Say goodbye to cookie-cutter sales funnels and hello to more efficient, effective sales management with HubSpot's Deals feature.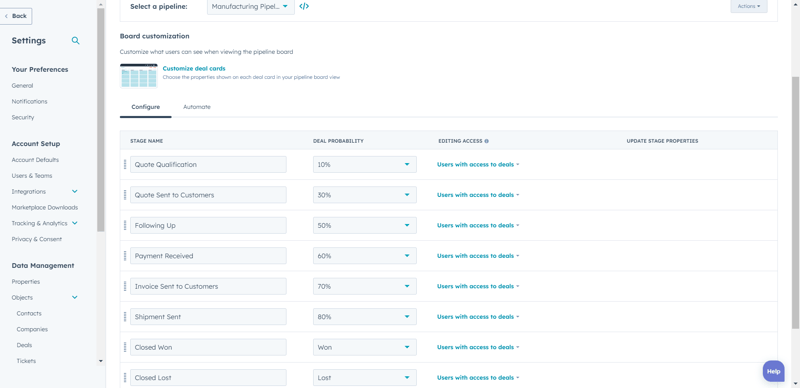 How can HubSpot Quote Software assist you in generating enhanced Quality Quotes?
The HubSpot Quotes Tool makes collecting payments a breeze. Simply toggle payment collection on when generating a quote, and your prospect can easily pay with a credit card after receiving the quote. And getting signatures is a breeze too. With designated signers and countersigns, you can collect legally binding electronic signatures without any need for printing, scanning, or faxing.
But that's not all! You no longer have to enter customer information into a separate software system manually. The quotes tool automatically extracts contact and company information from HubSpot CRM to generate sales quotes. Spend less time switching between different systems and more time closing deals.
You can even generate auto-populated quotes on the spot, submit them, move on to the next deal, make a call, send an email, and then come back to check if your quote has been signed – all without skipping a beat.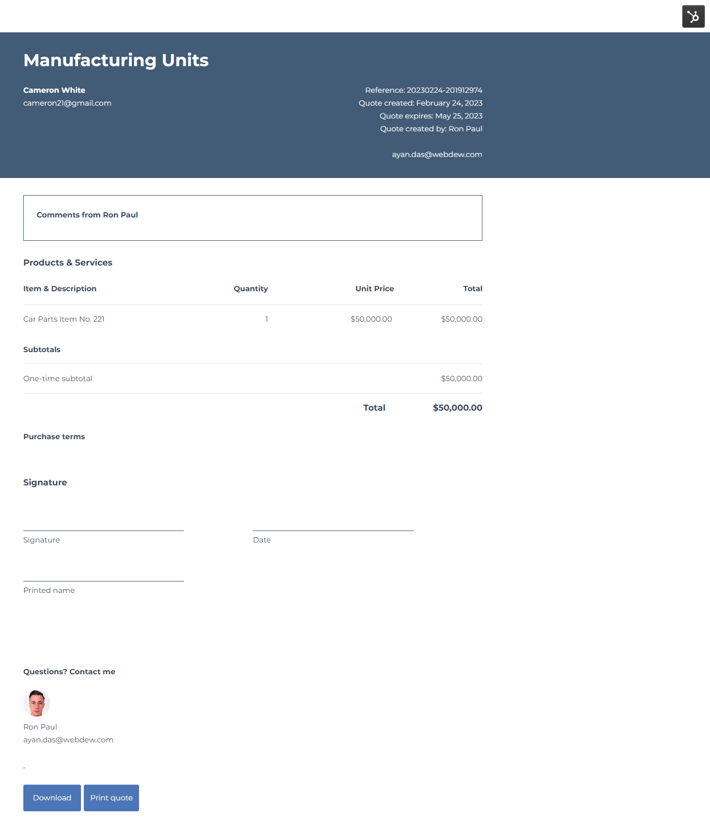 Streamline your Sales Process by managing, tracking, and storing your Activities using HubSpot Tasks Feature
With HubSpot's tasks function, you can stay on top of all your to-do's with ease. Whether you're assigning tasks to team members or creating tasks for yourself, you can set due dates and priorities, add notes or files, and keep everything organized in one place. And with the ability to sort and filter tasks by the due date, priority, and owner, you'll always know what needs to be done next.
HubSpot's tasks tool even sends reminders and alerts as tasks are due or new tasks are assigned, so you'll never miss a deadline again. Plus, you can track your progress and examine completed tasks to ensure nothing falls through the cracks.
And if you're looking to streamline your workflow even further, you can even automate task generation and assignment using HubSpot's marketing automation tool.
With HubSpot's tasks function, you'll have everything you need to stay productive and efficient, including reports on task completion rates, late tasks, and task performance. So you can identify areas for improvement and make changes to your process as needed.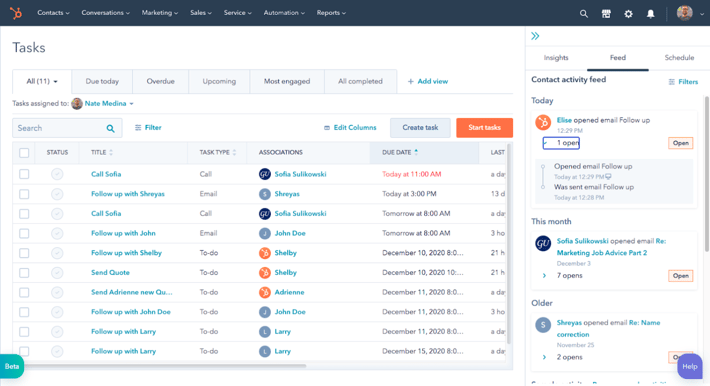 Start building better Relationships through unlimited, personalized Conversations using HubSpot Shared Inbox
Customers nowadays expect to communicate with companies through multiple channels. However, many companies use separate tools and employees, leading to poor customer experiences.
Luckily, with HubSpot's shared inbox, you can unify all conversations from live chat, Facebook Messenger, chatbots, team email, and more. This free tool provides a centralized inbox that sales, marketing, and customer support teams can use to access, manage, and respond to all conversations.
Customers want to communicate with you through their preferred channels. With HubSpot's Conversations inbox, you can respond to real-time messages sent via Facebook Messenger and your website's live chat right from the Conversations inbox, Slack, or the HubSpot mobile app. Don't let emails sent to your team's email aliases slip through the cracks.
Connect your shared email aliases to the Conversations inbox to improve team communication. Establish rules to ensure that every incoming email is responded to as soon as possible. You can route or assign emails to specific people, distribute them across teams, and sort them using filters.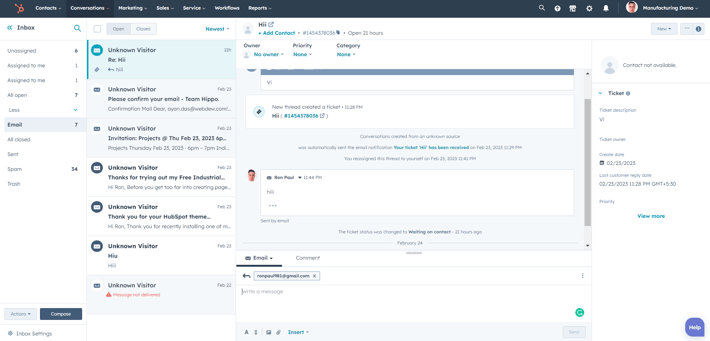 Utilize HubSpot Snippets Feature to streamline Sales Communication
HubSpot Snippets is a handy tool that lets you create and save frequently used text, images, or HTML code as reusable blocks. This makes it easy to insert them into your emails, blog posts, landing pages, and other content within HubSpot. With Snippets, you can save time while ensuring consistency in your messaging and branding across different channels and campaigns.
One cool thing about Snippets is that they support variables, allowing you to input dynamic data like contact properties or custom properties. For example, you can use a variable to add a contact's first name into a snippet.
By using Snippets, you can easily add pre-written text to your emails, landing pages, blog posts, and other HubSpot assets. Plus, you can make changes to your Snippets in one place, ensuring that all instances of the same information are up to date.
In addition to saving time and improving consistency, Snippets can facilitate collaboration and team communication. By creating and sharing Snippets, teams can ensure that everyone is using the same language and terminology.
This is especially helpful for larger organizations or teams with multiple contributors. Overall, HubSpot's Snippets feature is a valuable resource for marketers and other users who want to streamline their work, increase consistency, and enhance collaboration.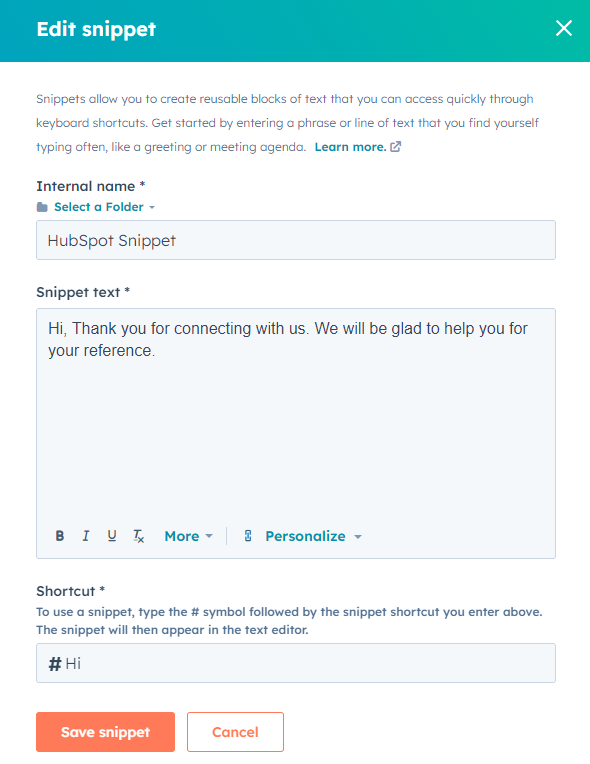 Access a Library of built-in Templates designed for every Step of your Customer Journey using HubSpot Template Builder
With HubSpot, you can browse a library of built-in templates that are tailored for each stage of your customer's journey or create your own templates from scratch. And the best part is your templates are always just one click away in your inbox, whether you're using Outlook, Office 365 for Windows, or Gmail.
But it doesn't stop there. You can also use real-time analytics to enhance your email templates. The system provides you with real-time stats that show you which templates are working well and which ones require immediate adjustment. You can see which subject lines entice your leads and new clients to click, as well as the buttons, links, and attachments that they interact with.
And the amazing news is that you can access metrics across all of your templates, for a single sales rep, and throughout any time period in your dashboard.
But that's not all. You can also share your finest email templates with your whole team to help you close more business. You can determine which email templates are sent, opened, and interacted with the most to identify your time-saving and high-performing templates. Then, you can provide your employees with access to these templates within their inboxes.
Now everyone on your team has the ideal email for each scenario at their disposal!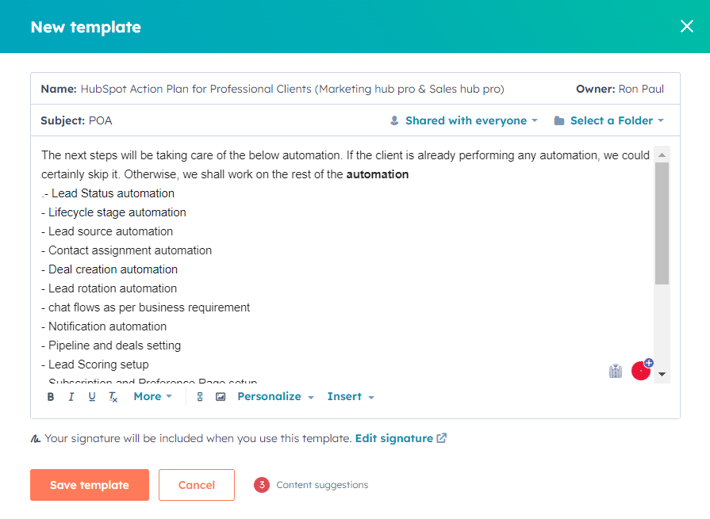 Qualify Leads, Book Meetings, Provide Customer Support, and scale your Results using HubSpot Chatflows
Did you know that today's website visitors, prospects, and customers expect to communicate via live chat with businesses in real-time? However, it can be difficult for most businesses to facilitate one-on-one talks on a broader scale.
But don't worry; we've got you covered! Yodu can use HubSpot's free chatbot creation tools to help your team. With these tools, you can create messaging bots that can help you qualify leads, arrange appointments, answer common customer service issues, and more. This way, your team can focus on the most important interactions while the bots take care of the rest.
You can even set your bot to transfer the discussion to a live agent after it has been qualified, create support tickets, add people to lists and processes, and perform other functions.
And the best part is that your bot interactions don't have to be robotic with HubSpot. Because the free chatbot software is fully connected with HubSpot's contacts database, your bots can provide warmer, more tailored messages based on your current contact information.
Plus, all data gathered by your chatbots will be seamlessly synchronized and saved on a contact's timeline, providing your whole team with a broad context and a crystal clear perspective of every encounter.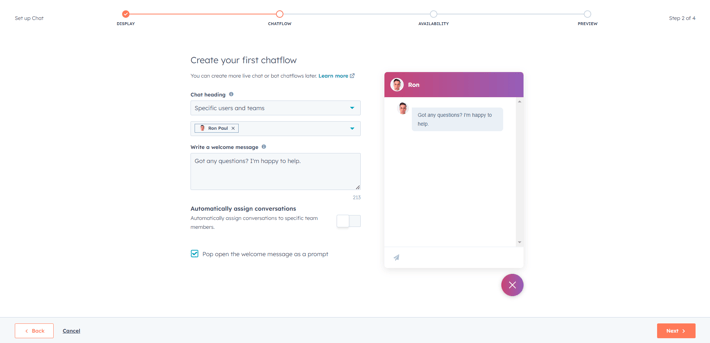 HubSpot Service Hub
Maximize your Support Team's Efficiency with HubSpot Knowledge Base Software
Did you know that HubSpot has a super handy feature called the Knowledge Base? This powerful tool is designed specifically to help businesses create and manage a centralized repository of knowledge for their existing customers, including everything from product manuals and FAQs to troubleshooting advice and other resources.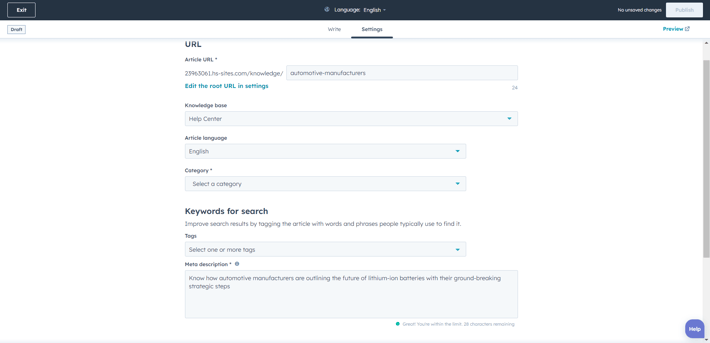 With the Knowledge Base, businesses can easily produce and manage content using a simple interface, and clients can quickly discover the information they need thanks to extensive search and filtering tools. Plus, companies can tailor the look and feel of their Knowledge Base to reflect their brand, including custom branding, colors, and fonts.
But that's not all - the Knowledge Base also includes powerful metrics to help businesses measure the performance of their content. For example, they can see how many views an article has, how many people are engaging with the material, and more.
And when combined with other HubSpot products like the CRM, Marketing Hub, and Service Hub, the Knowledge Base can help deliver a seamless customer experience across all touchpoints.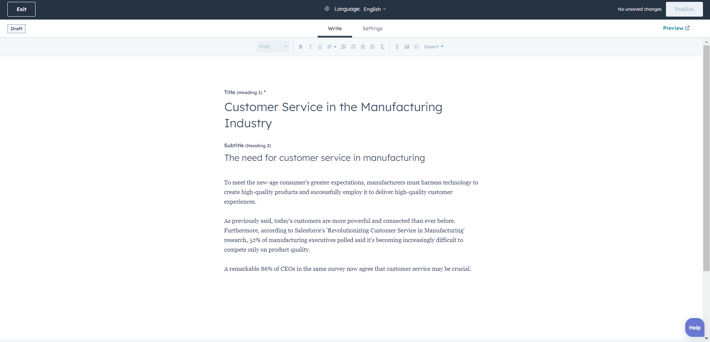 Streamline your Customer Feedback Tracking with HubSpot Feedback Tool
HubSpot's customer feedback software can help you unlock valuable insights into what your customers really think. With personalized surveys and feedback-gathering tools, you can easily customize your surveys with a variety of question types and frameworks, then distribute them via web link or email.
Once you've collected your data, built-in feedback dashboards make it easy to monitor client satisfaction and take action based on your findings. With automated surveys, you can sit back and watch as customer feedback pours in, giving you valuable insights into opportunities to enhance key points in the customer journey, track satisfaction, and identify patterns that can help you create an even better customer service plan.
And when it comes to measuring customer loyalty, HubSpot has you covered with pre-built net promoter score (NPS), customer effort score (CES), and customer satisfaction (CSAT) questionnaires. This means you can get a complete picture of customer satisfaction at every touchpoint and make data-driven decisions to improve retention and strengthen client relationships.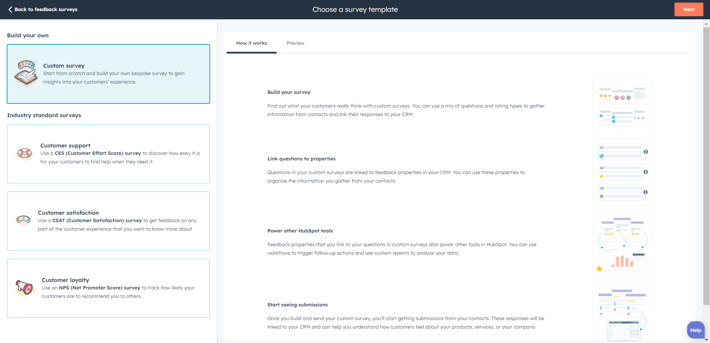 Delight your Customers utilizing HubSpot Ticket Automation Feature
When it comes to managing customer support tickets, businesses need a reliable and efficient system in place. Luckily, HubSpot Ticket Automation provides just that. This powerful Service Hub product allows organizations to automate ticket management, streamline their support processes, and ultimately improve customer satisfaction.
With Ticket Automation, businesses can create rules and procedures that automatically route and prioritize issues, assign them to the right team members, and escalate them when necessary. Support staff members can generate tickets manually or automatically from sources like email, chat, or social media.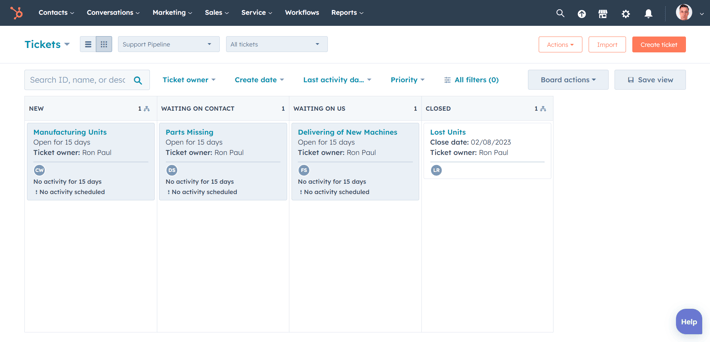 By configuring rules and processes based on issue category, severity, or customer history, businesses can ensure that the right team members handle tickets. And with the ability to rank tickets based on urgency or customer impact, critical issues are addressed promptly.
Plus, if a ticket isn't handled promptly or meets specific criteria, Ticket Automation can automatically escalate it and send notifications and reminders to team members.
With built-in analytics and statistics, organizations can easily analyze their support team's performance, including response times, resolution rates, and customer satisfaction scores. This enables businesses to improve their support processes and deliver exceptional customer service continuously.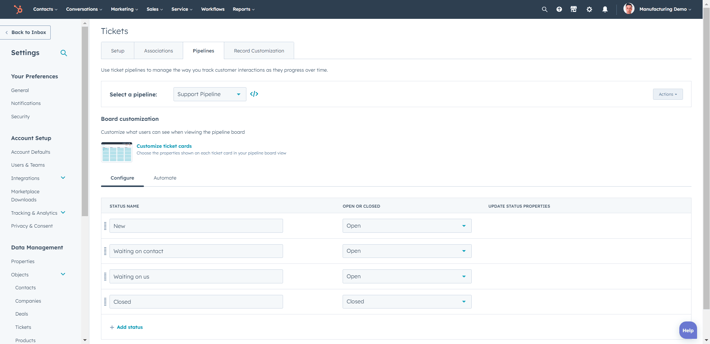 Take control of your Service Experience with the Customer Portal Tool by HubSpot
Your customers want to have a seamless experience when addressing concerns or problems with your service without having to go through the nuisance of contacting customer service. That's where the HubSpot customer portal comes in.
By integrating client HubSpot portals into your company's knowledge base, you can provide your customers with a personalized, branded space to manage their open and closed support tickets and stay up-to-date on their progress.
With the customer portal, customers can communicate with support personnel easily and securely, giving them a sense of control over their support experience. Support teams can automate repetitive tasks, build HubSpot workflows, and share knowledge base articles, freeing up their time to focus on high-impact tasks.
By seamlessly integrating the customer portal with the HubSpot CRM and shared email, customers can self-serve and get the help they need quickly and efficiently.
By offering a customer portal that's tailored to your brand, you can deliver a consistent, unified experience for your customers, building trust and strengthening relationships.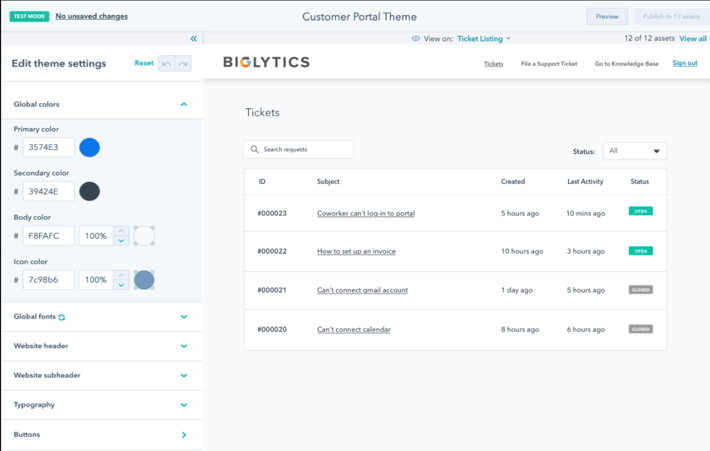 HubSpot Marketing Hub
Design a unique Website with HubSpot's free Drag-and-Drop Website Builder
Building and customizing a website can be a scary task, especially if you don't know how to code. That's where the HubSpot Website Builder comes in. HubSpot's drag-and-drop editor makes it easy for businesses to create and personalize their websites in just a few hours.
With features like flexible layouts, SEO optimization tools, and mobile friendliness, you can create a professional-looking website pages that generate more leads and sales online.
But it's not just about aesthetics - your website is a crucial aspect of your customer experience.
That's why HubSpot website builder includes pre-built modules like forms, live chat, and meeting tools, all fully integrated with the HubSpot CRM platform. Plus, with built-in reporting, you can easily track the impact of your website and convert leads into customers.
Don't worry if you're new to website building - HubSpot's user-friendly platform includes tutorials and support tools to help you get started.
And because the Website Builder is integrated with HubSpot platform, you can connect it with other technologies like marketing automation and sales automation tools to streamline operations and improve your online presence.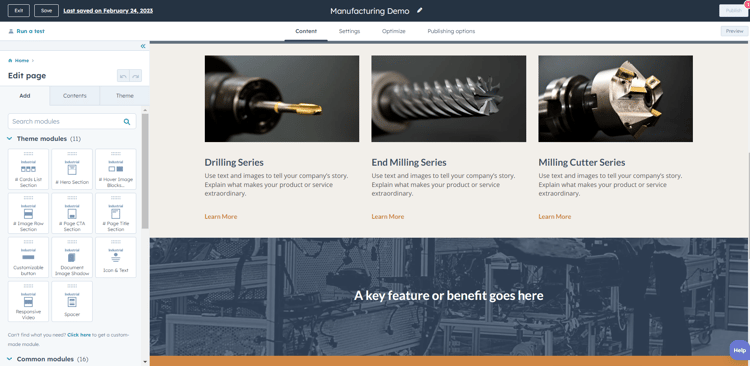 Benefits of using HubSpot Landing Page Builder to create excellent Landing Pages
Creating custom landing pages can be daunting for someone without technical knowledge, but with HubSpot's landing page builder, it's easy to launch pages that convert.
Choose from a variety of pre-designed, mobile-optimized templates, or use the drag-and-drop editor to create your own custom page in minutes. Plus, you can test how your page looks on different devices before publishing to ensure a great user experience.
Personalization is key to driving conversions, and HubSpot's landing page builder allows you to create unique experiences for different visitors. You can display customized content based on a visitor's location, device, lifecycle stage, or CRM information. And with dynamic HubSpot forms that never ask the same question twice, you can gather more data from your leads.
To optimize your landing pages for maximum performance, use HubSpot's consolidated dashboard to track metrics and test different page versions against each other. You can even get specific SEO recommendations to improve your page's visibility in search results. With HubSpot's landing page builder, you can create high-converting pages that drive more leads to your business.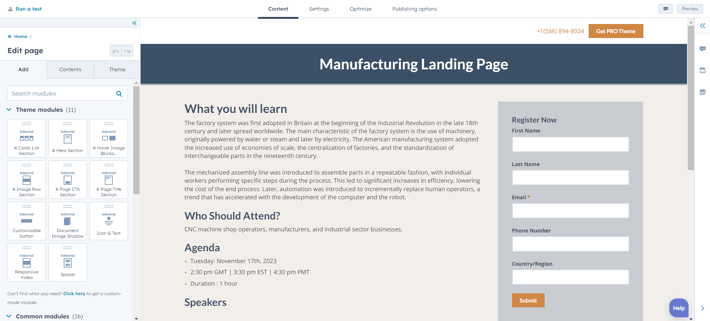 Improve Conversion Rates with personalized Call-to-Actions using HubSpot CTA Builder
If you want to improve leads and conversions on your website or landing pages, you need a compelling call-to-action (CTA). But developing a CTA that resonates with your target audience can be challenging. That's where HubSpot's CTA Builder comes in. With this tool, you can create highly personalized CTAs that match your brand's messaging and identity.
The CTA Builder allows you to customize everything from the appearance to the language and placement of your CTAs. You can also segment and target specific groups of visitors with unique CTAs. This level of personalization ensures that your CTAs speak directly to your visitors' needs and desires, increasing the likelihood that they will convert.
But the real power of HubSpot's CTA Builder lies in its ability to track and analyze the performance of your CTAs in real time. You can monitor metrics such as click-through rates, conversion rates, and overall engagement, giving you valuable insights into how your CTAs are performing. Armed with this data, you can optimize your CTAs to improve performance and generate more leads and revenue.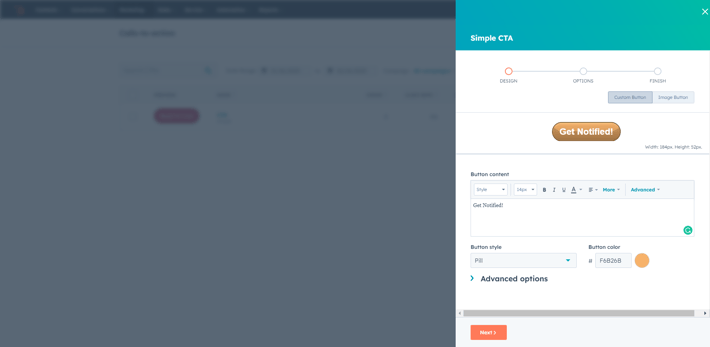 Outrank your Competitors and get to the Top of Search Results using HubSpot SEO Tool
SEO can be a tricky business, especially when it comes to selecting the right keywords to attract more traffic and conversions. That's where HubSpot's SEO tools come in handy.
With prioritized, practical advice on optimizing your site for search engines, you can easily see which changes will significantly impact your search performance. Plus, you can easily identify which pages need updates, what actions to take, and how your SEO improves over time.
These days, search engines favor websites with well-organized, relevant content. With HubSpot's content cluster strategy tool, you can easily identify and rank topics that are important to your customers. You'll receive topic ideas based on relevance, competitiveness, and popularity, as well as monthly search term statistics to predict how ranking for different topics will translate to organic traffic growth.
And with HubSpot's integrated content tools, you can create clusters of web pages and blog posts centered on each of your company's main topics. Simple canonical URLs help you focus your search authority on your most impactful pages, and you can track all your relevant topics in one dashboard and see your traffic grow over time.
HubSpot's SEO tools provide in-depth information on everything from the phrases and topics people are searching for to where your website content ranks for any given search result.
By integrating Google Search Console with HubSpot, you can get data straight from Google to plan for a successful marketing strategy. Metrics like total impressions, average position, and clickthrough rate show you exactly where your content ranks in Google's search results, so you can focus on what's working and improve on what's not.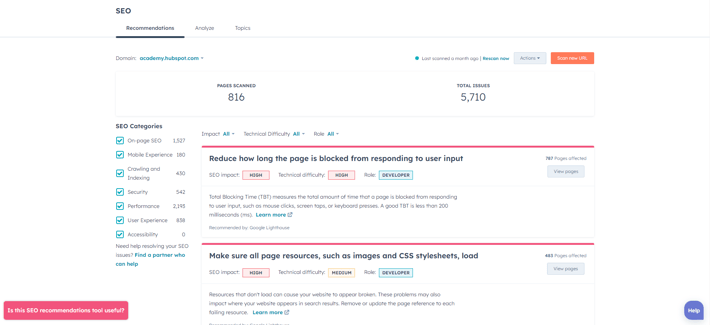 Create Personalized Emails for each Recipient with HubSpot Email Builder
HubSpot's Email Builder is a powerful tool that allows businesses to create visually stunning and personalized email campaigns with ease. With its array of templates and drag-and-drop features, the Email Builder makes it simple to create professional-looking emails that match your brand's identity and messaging.
Whether you're creating a newsletter, promoting an offer, or inviting people to an event, the Email Builder has you covered. Personalization options, A/B testing, and automated workflows are just a few of the tools available to help you increase engagement and drive conversions.
One of the biggest advantages of using HubSpot's Email Builder is the ability to track and analyze the effectiveness of your email campaigns in real time.
The platform provides detailed metrics and insights into the performance of your emails, including open rates, click-through rates, and overall engagement. With this data, you can optimize your email campaigns to improve performance and generate more leads and revenue.
HubSpot's Email Builder is an excellent tool for businesses looking to improve their email marketing efforts. It offers a range of customization options, automation tools, and analytics features that can help you create highly effective email campaigns that deliver results.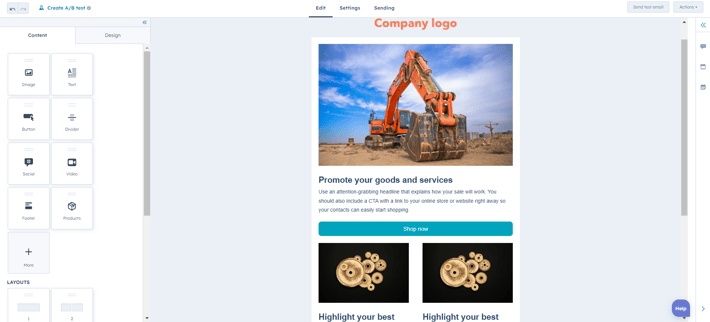 Optimize your Content with the HubSpot Blog Feature
HubSpot's blogging platform is an excellent tool for organizations looking to generate and distribute blog content on their website.
The platform features an easy-to-use editor for creating and formatting blog material and even allows for the inclusion of multimedia elements like photos and videos.
Additionally, HubSpot provides built-in SEO optimization tools like meta descriptions, tags, and keyword recommendations to help improve your blog's search engine ranking.
HubSpot offers a range of customizable blog themes that can be adjusted to match the look and feel of your business. And, if you're feeling extremely creative, you can even make your own templates.
One of the best things about using the HubSpot blogging tool is the ability to easily share your blog posts on social media platforms such as Twitter, Facebook, and LinkedIn.
HubSpot also provides detailed statistics and reporting on the performance of your blog, including views, click-through rates, and engagement data. This information can be used to improve your blog strategy and content.
Furthermore, the commenting and feedback options available through the HubSpot blogging tool allow you to interact with your community and get feedback on your content.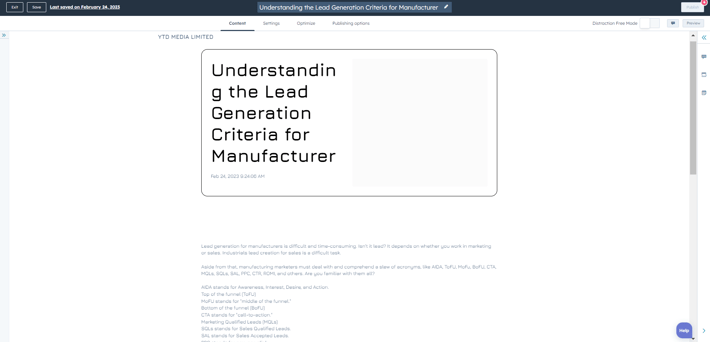 How can HubSpot Advertising Tool assist your Company in reaching its maximum Potential?
Creating, measuring, and optimizing advertising across various media can take up a lot of time and effort. And let's face it; it's frustrating when you're not getting a good return on your investment. But with HubSpot's ad management, marketers can stay focused and relevant throughout the entire customer journey, leading to increased conversions and a higher ROI.
With HubSpot, you can efficiently manage your leads at scale by using CRM-powered targeting and the ability to report on data at every stage, all from one single data source and platform. No more switching between different platforms and teams; it's all centralized and streamlined.
Traditional ad metrics such as impressions, clicks, and cost-per-click can only tell you so much. What really matters is if your advertising is effectively turning views into leads or contacts.
HubSpot's advertising manager provides comprehensive flywheel reporting, giving you insights into the leads and ROI produced by each ad. And with attribution, you can learn how your advertising is performing and spend your budget on what's actually working.
By eliminating the need to manage multiple platforms, HubSpot can help reduce time and produce better results for your ad campaigns. So why not give it a try?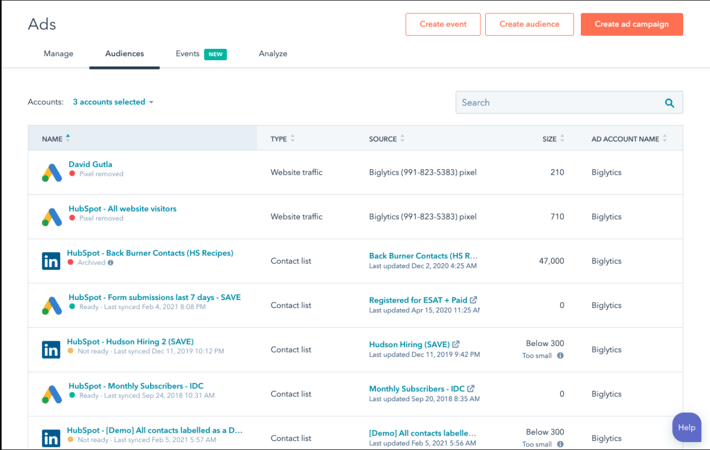 How can you use the HubSpot Campaign Management Tool to engage your Team?
Campaigns can be a great way to boost corporate development, but they won't be successful without team alignment. Luckily, HubSpot's campaign tools make it convenient for marketers to design, manage, and collaborate on campaigns from one central location.
By engaging your audience with coordinated marketing, you can ensure that you communicate with a unified voice, leading your consumers through their journey with minimal friction and achieving your goals.
It's not uncommon for sales and marketing teams to execute campaigns in silos across multiple systems. But customers can tell when you're not aligned across channels and teams.
That's why coordinated marketing is so important. By using HubSpot's campaign tools, you can extract consumer data from multiple sources and generate targeted and tailored campaigns, resulting in a more cohesive and satisfying user experience.
The best part? HubSpot's Marketing Hub is the only inbound marketing automation software built on top of an integrated CRM. This means that not only are your advertising tools in one location but so is all of your customer and prospect data. With all of your marketing and customer data in one place, you can easily create and execute inbound marketing campaigns that align with your business goals.
HubSpot Reporting and Dashboard
How can HubSpot Dashboard & Reporting Tool help your Workforce in maximizing the Power of Analytics?
As your business grows, it's important to be able to respond promptly to one-time inquiries. But that can be a huge task when you must wait for an analyst's help whenever you need a new report or handle everything in spreadsheets.
That's where HubSpot comes in! By seamlessly connecting your CRM contact, company, and deal data alongside your marketing, sales, and service data, HubSpot makes it simple to develop customized reports to answer even the most complicated inquiries. You can even add data into HubSpot using custom objects and integrate your favorite applications from the HubSpot App Marketplace to increase the capabilities of the custom report builder.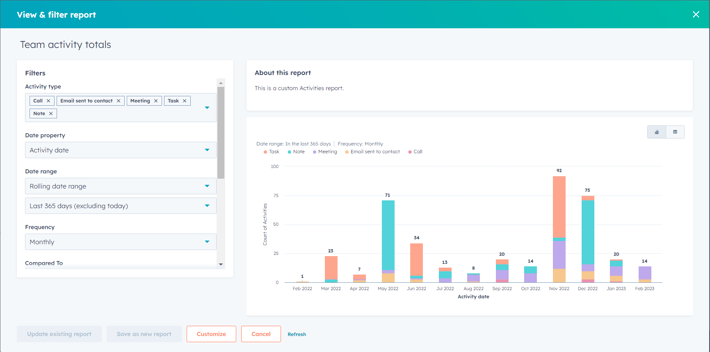 One of the most incredible things about HubSpot's custom report builder is that you can analyze several data sources accessible in HubSpot at the same time. This means you can aggregate data from different departments, such as marketing and sales activity, as well as any custom objects. For example, you could create a report that records how your target accounts engage with your website.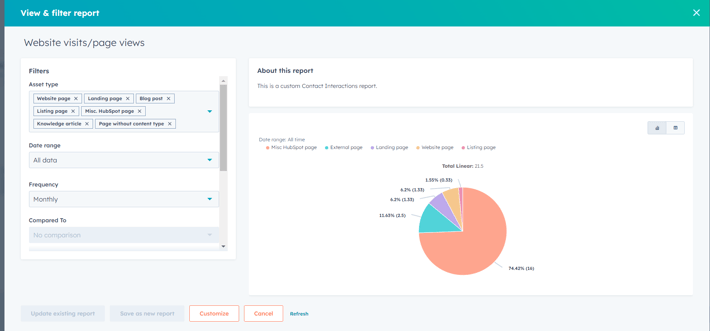 And if you want to concentrate on the most relevant indicators, versatile dashboards merge many reports onto a single canvas. You can build executive dashboards quickly, set up dashboards for team members to measure progress towards goals, and personalize the layout using drag and drop.
Plus, with pre-built marketing, sales, and service dashboards based on common use cases, the dashboard template collection saves you time. You can even distribute Slack or email dashboards and project dashboards via screen sharing or meetings.
But don't worry about compromising your sensitive data. You can provide everyone access to the data they need while securing sensitive data with complex reporting permissions.
You can make reports and dashboards public or private, or restrict access to specific individuals and teams, to gain more control over your data. And you can simply maintain the correct dashboard view regardless of how many team members have access to shared dashboards with monitored adjustments.

HubSpot Integrations
Build a Brand your Market needs and increase Revenue using HubSpot-Shopify Integration
Integrating HubSpot with Shopify is a fantastic method to streamline your e-commerce and marketing processes. The link enables you to synchronize customer and order data between the two systems automatically. This makes it possible for both systems to examine consumer information, order history, and purchasing behavior.
Using HubSpot's customizable processes, you may design unique experiences for consumers based on their Shopify purchase behavior. For example, you can set up processes to contact customers who left their carts abandoned, send promotional emails to customers who recently made a purchase, and so on.
HubSpot also allows you to segment your customers based on their Shopify purchase activity, making it easy to create targeted marketing campaigns. You can also use HubSpot's customer service solutions to assist your Shopify customers.
This includes generating support requests, monitoring customer chats, and more. HubSpot's sales tools can also assist you in gaining insights into your Shopify customers' purchasing habits. This information might help you adjust your sales approach and increase your conversion rate.
Sync fast, reliable, and powerful Data across your two Databases using HubSpot-Salesforce Integration?
Integrating HubSpot with Salesforce is like having the best of both worlds! You can combine HubSpot's marketing automation and lead management capabilities with Salesforce's robust CRM system. With the integration, leads will be synced automatically between the two platforms, meaning that HubSpot leads will be immediately pushed to Salesforce and vice versa.
One of the incredible perks of this integration is that you can create custom processes based on a lead's Salesforce status. For example, you can develop processes to follow up with leads who aren't quite ready for sales or send targeted email campaigns to leads who have engaged with your website.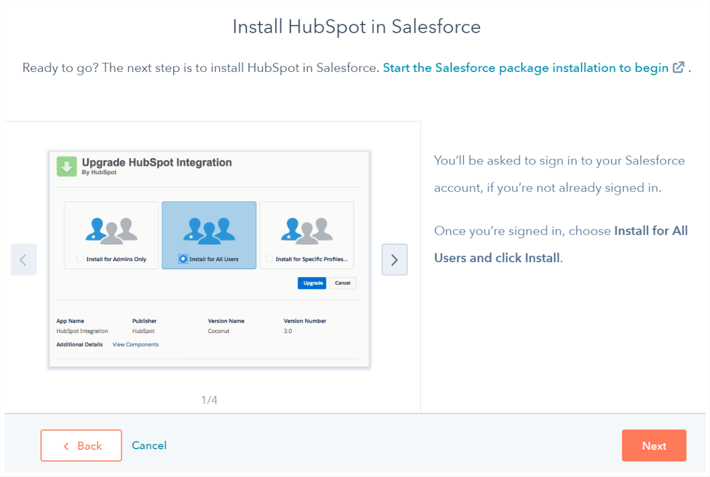 HubSpot's lead segmentation capabilities make it simple to create targeted marketing campaigns based on where a lead is in the sales funnel. And by using HubSpot's sales tools, you can gain insight into the purchasing habits of your Salesforce leads, which can help you adjust your sales strategy and boost your conversion rate.
The integration also allows you to create custom reports that pull data from both systems, giving you a complete view of your marketing and sales operations. It's a win-win situation!
Ready to kick-start your Manufacturing Marketing Strategy with HubSpot?

HubSpot CRM for Manufacturing is the ultimate solution for your business, providing you with a powerful platform to streamline your operations and improve your overall efficiency. From marketing automation to customer service solutions and everything in between, HubSpot has got you covered.
With its user-friendly interface and robust features, it's easy to see why HubSpot has become the go-to solution for businesses of all sizes and industries. Whether you're looking to generate more leads, increase sales, or enhance your customer experience, HubSpot can help many industrial manufacturers achieve their goals and take their business to the next level.
Now if you're ready to take your manufacturing business to the next level with HubSpot, it's time to contact our team of HubSpot experts. We can help you explore the full potential of this all-in-one business tool and customize it to meet your unique needs.
And if you're curious about HubSpot pricing, do check out our blog for more information.
Recommended Read:
HubSpot Pricing 2023 [Comparison of All Plans]
HubSpot Free vs Paid: Find the right package for your business
Why switch to HubSpot? Have a look at these in-depth HubSpot reviews
HubSpot onboarding options: Direct vs. Onboarding with a partner agency
HubSpot Discount Codes: The Smart Marketer's Guide to Saving Money
Frequently Asked Questions
How can HubSpot help your business?
HubSpot is like a super toolbox for businesses. It helps them do many things better. It has tools for marketing, sales, helping customers, and understanding data. For example, it helps a business attract more customers online, sell products efficiently, and take good care of their customers. It also helps them understand what's working and what needs improvement. So, HubSpot is like a trusted friend that gives businesses the right tools to do well in the world of the internet and digital business.
What is HubSpot used for in marketing?
HubSpot, in marketing, is a tool for creating and analyzing advertising campaigns. With HubSpot's ad tool, you can use your existing marketing resources and customer data to increase your brand's recognition and attract valuable leads for your business. It helps you run effective ads to reach potential customers and monitor their performance, making it a great asset for businesses looking to grow and engage with their target audience.
What is CRM in manufacturing?
In manufacturing, CRM (Customer Relationship Management) is a software tool used to streamline interactions with potential and current customers. It helps manufacturers manage the sales process and keep track of customers and their order history. This system allows companies to maintain strong customer relationships, improve sales, and provide better service by centralizing customer information and communication. It's like an organized hub for customer data, aiding manufacturers in understanding and meeting customer needs more effectively.
What are the CRM roles and responsibilities in manufacturing industry?
In the manufacturing industry, Customer Relationship Managers (CRMs) play pivotal roles. They empower sales managers to monitor and enhance team performance. CRMs allow tracking of productivity and revenue metrics at both individual and team levels. They aid in delegating tasks to sales representatives while closely monitoring calls, performance, and revenue statistics. By analyzing this data, CRMs help devise strategies for performance improvement, ensuring that sales teams operate efficiently and contribute to the company's growth and success.