If you have a website, it goes without saying that you would want your web pages to rank higher on the SERPs. You would use SEO best practices and analytics or even hire a marketing agency to do it for you.
The SEO Marketing Software from HubSpot is exactly what you need to boost your website's visibility in search engines. HubSpot Tools can be quite helpful in various improving aspects of your website marketing and sales operations too.
HubSpot, being a pioneer in inbound marketing, also has a content optimization tool that can evaluate your pages for SEO enhancements. It's never been simpler to improve your content's search engine rankings than with HubSpot marketing software that has built-in SEO tools.
In this blog, let us see how HubSpot tools help enhance the content of your website through SEO recommendations and Topics SEO keywords tools.
What is the HubSpot SEO Tool?
The HubSpot SEO tool is a powerful tool for organic traffic that helps you optimize your overall SEO strategy. It gives you clarity on how well your website content is performing and helps you identify ways to improve its organic reach.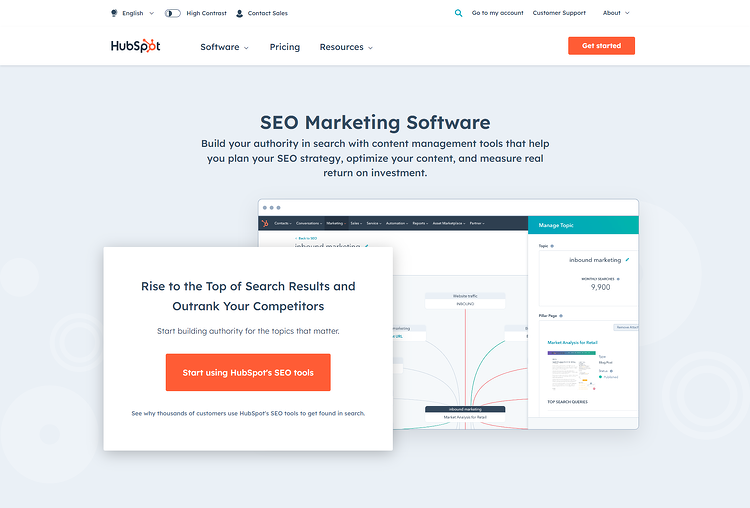 Before going further, keep in mind that even though HubSpot offers free SEO resources, you would need Marketing Hub Professional or Marketing Hub Enterprise account to access the keywords tool. The HubSpot CRM packages are quite affordable for small and big businesses. You might want to read this blog on HubSpot CRM pricing.
Features of HubSpot SEO Tool
HubSpot SEO tool can be rightly called a 'gem' if you are looking to optimize your content.
Here are a few features of the same that will make you understand why it is so:
You can track organic keyword rankings, create custom SEO reports, analyze competitor performance, and more -- all in one easy-to-use platform.


You'll have the insights needed to make informed decisions about your organic content and campaigns!



Using HubSpot's

SEO tools

can help you optimize your content

for searches and ensure it's seen by more of your target audience.


With this helpful tool, users can create titles that are optimized for search engine crawlers as well as meta descriptions that increase visibility and engagement from users.


Additionally, users can identify keywords related to their content and view a list of other similar words or phrases that may be used in the same context.
How to use the HubSpot SEO Tool?
HubSpot's SEO tools are easy to use: all you need to do is enter the title of your page and Hubspot will analyze it for you to see if it is SEO-friendly based on keyword density and readability score. You'll then receive tips on how you can improve it if necessary.
You also have the option of editing the meta description, which appears in search engine results and should include relevant keywords that accurately describe your page.
The first thing to do is to log in to your HubSpot account, and navigate to:
Marketing > Website > SEO.
This is what the tool will look like: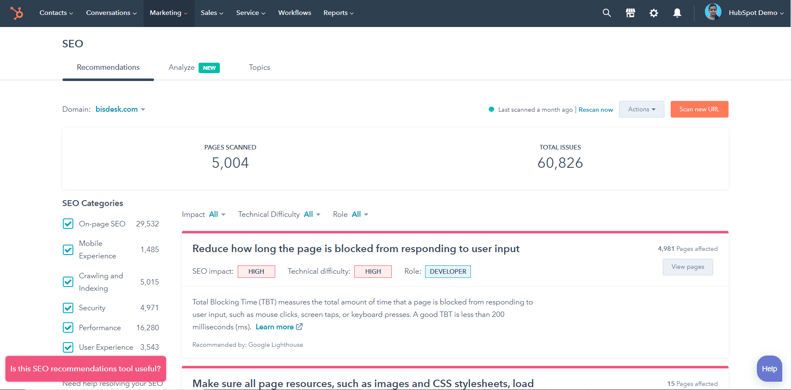 Using HubSpot SEO Recommendations
Increasing your website's organic traffic is possible by employing the best SEO tactics. HubSpot's recommendation tool allows you to analyze a website or webpage and see what recommendations it suggests making.
A website that is not hosted on HubSpot can also have its pages scanned. On average, scanning takes three hours, though it might take as long as six hours for particularly complex websites.
Click the "Scan new URL" button in the top right corner to begin scanning a new domain. Simply type your website's address into the dialogue box and hit Scan URL to begin the scan.
If you'd like to scan a domain that you've already added, you can do so by selecting it from the Domain dropdown option. Select 'Rescan Now' in the upper right corner. Click the Domain dropdown menu after the scan completes, and then choose a domain.
You can filter SEO recommendations using the following three factors, as shown in the image below: SEO categories, SEO impact, and Technical Difficulty.

Select the checkbox next to the category to categorically filter the recommendations.
Let us understand how to export recommendations. Choose Export suggestions from the Actions dropdown menu. Proceed to the dialogue box, choose a format from the File format dropdown, and then click Export.
A notification and an email will be sent to you, respectively, with a link to your export file. Set the domain that appears when you open the SEO tools. Then, select Make default domain from the Action dropdown menu.
In the domain dropdown, you'll now notice a star next to the default domain. Repeat this step for a different domain to adjust the default domain.
Simply select "Remove domain" from the Actions dropdown menu after clicking the dropdown arrow next to the scanned domain you want to delete a domain. A re-scan of a previously deleted domain's URL will bring it back into the system.


Creating Topics for SEO Strategy
Posting relevant content on your website is quite important to drive traffic to your website. However, just posting any content is not enough. With HubSpot content management system, you can plan your content strategy, identify topic clusters and create content that rank higher in search.
Utilizing the HubSpot software, you will be able to conduct keyword research as well as organize topics and subtopic keywords in accordance with the operations of your company. These subject areas are going to serve as the cornerstones for the material that you develop for both your website page and blog post.
By developing content in a hierarchical structure, you may assist search engines in better comprehending your site's subject matter. Using this method, you will almost certainly see an increase in traffic and rankings on Google searches.


Organizing Topics
In order to keep content organized, the following elements will be included in each topic:
Pillar Page: The one main page on your website that delves into a subject at length and serves as a pillar for the main topic.


Links on the Pillar Page: There are links on the Pillar Page to other pages that have been created about particular subtopic keywords. This information ought to also include a link back to the page that serves as the pillar.


Internal Links: Search engines are aided in their understanding of your website's subject matter by the interlinking between its pages. Having an internal linking strategy is also one of the best practices suggested by marketers to improve your SEO.
Adding Topics
Here is what you need to do to add topics:
Navigate to Marketing > Website > SEO.


Access Research Topics by selecting the Topics tab. Now, within the topic box, insert a category of topic.


Choose the name of the topic and simply click the Create Topic button.


Your cluster related to the topic will resemble something like this: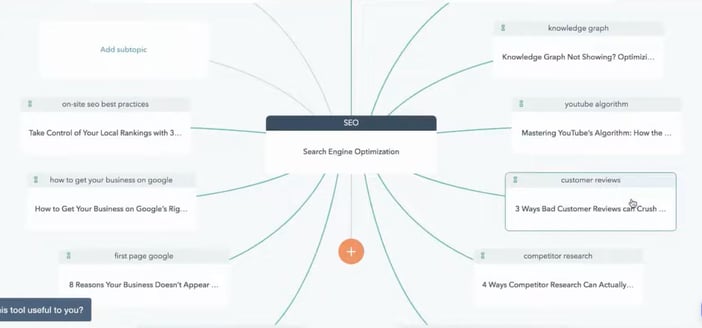 Attaching Content
Move to the center where the topic is displayed, and then click Attach content URL.
Search for the page or blog post you want to attach in the Pillar Page search bar by name or URL, and then click the content that appears in your search results to attach it.
If it's a link to an external source, such as a website or blog post, select "Add external URL," paste in the address, and select "Save."
Adding Subtopic Keywords and supporting Content
It's time to add supporting content to your topic that is based on subtopic keywords now that you've linked a pillar page to your topic.
As you add supporting content, make sure that the subtopic content links back to the topic's pillar page by taking the additional steps listed below:
Enter a subtopic term in the right panel by clicking Add subtopic keyword.


After that, select Research Subtopic Keyword.


Click Save after selecting the subtopic's keyword.


You'll be asked to add content to this subtopic keyword right now. In the right panel, attach the supporting content as required.
Once you have added all of the topics and subtopics you want to include in your blog and website, you are done with the job.


Ready to use the HubSpot SEO Tool?
Although improving content in accordance with SEO criteria is not simple, features of HubSpot software make it possible and simpler than anticipated. Although it may appear difficult, using the HubSpot tool and optimizing your content is simple if you understand what has to be done.
You can easily make your website visible in the competitive market
where firms are always attempting to improve their
digital marketing tactics
by using this tool in the best possible way. The SEO tool from HubSpot also enables you to analyze your campaigns and take actionable steps to enhance performance.
Hopefully, the information above will make the HubSpot SEO tool clear to you. Utilize this fantastic tool to its fullest and create leads in an efficient manner. There are many other CMS software that you can use to build and promote your website, like WordPress.
Read this blog on
HubSpot vs. WordPress
to find out what is a better CMS for you.
We should let you know that HubSpot is a free online tool if you are new to it. Do you need assistance with HubSpot?
Feel free to
get in touch
with us.
Editor: Amrutha Varma
Frequently Asked Questions
How do I set up SEO on HubSpot?
To set up SEO on HubSpot, start by creating a new topic. Log into your HubSpot account and go to Marketing, then select Website and choose SEO. Click on the Topics tab, and in the top right corner, you'll see the option to Add a topic. Enter the topic you want to analyze for SEO metrics, and click Add. This allows you to track and improve the search engine optimization of your content related to that topic in your HubSpot account.
Can you use HubSpot for SEO?
Yes, you can use HubSpot for SEO. HubSpot provides SEO recommendations within its page editor. These SEO features are accessible to users with Marketing Hub Professional and Enterprise accounts, as well as CMS Hub Professional and Enterprise accounts. HubSpot's SEO tool helps optimize your web content for search engines, making it easier for your website to come up higher in search results and drive more organic traffic.
Is HubSpot CMS good for SEO?
HubSpot CMS proves excellent for SEO due to its all-in-one capabilities. With HubSpot, you have the tools to optimize your website efficiently. You can easily implement SEO best practices, manage content, and track performance. Its user-friendly interface ensures that you can create SEO-friendly content and meta tags effortlessly. Additionally, HubSpot's analytics and reporting features help you monitor your SEO efforts and make data-driven improvements. In sum, HubSpot's comprehensive toolset simplifies the SEO process, making it a strong choice for enhancing your website's search engine visibility and overall performance.
What are the three categories of optimization HubSpot?
HubSpot optimization is split into three key categories. Firstly, it involves optimizing your website to make it more appealing and user-friendly. Second, it focuses on optimizing conversion rates and generating more leads. Finally, it emphasizes content promotion to reach a wider audience. These steps collectively improve your marketing efforts and help you achieve better results. So, the three categories are website optimization, conversion and lead optimization, and content promotion. By working on these areas, you can enhance your overall marketing strategy and drive better outcomes.