HubSpot: The Missing Piece in your Customer Lifecycle Puzzle
Navigating the modern customer journey can be daunting. However, the right technology can make all the difference. A haphazard collection of systems can lead to silos between teams, a clunky user experience, and an inflexible tech stack - all of which can hinder your ability to deliver a truly connected customer experience. But, with HubSpot, you can break down those silos, streamline the user experience, and adapt to the ever-changing needs of your customers.
Sick of juggling multiple tools for your business?
HubSpot brings everything together in one easy-to-use CRM. From Content and Messaging to Automation, Data, and Reporting, it's the all-in-one solution you've been searching for. Plus, with Hubdew by your side, you'll have the support you need to drive your business forward.
HubSpot in Action: Witness the Future of your Business
Join us for an interactive session and discover how HubSpot can drive your business forward.
From Leads to Loyalty: Marketing Hub Demo
Are you ready to create marketing campaigns that attract customers? HubSpot's Marketing Hub is here to help. With our demo, you'll learn how to bring in more website visitors, turn them into leads, and show the value of your marketing efforts. Say goodbye to scattered strategies and hello to an all-in-one solution for your marketing needs. Get ready to see real results with HubSpot's Marketing Hub demo today!
Sales Simplified: Sales Hub in Action
Are you tired of chasing leads through endless email exchanges? Say hello to HubSpot's Sales Hub! It's like giving your sales team a superpower boost. Get instant notifications when a lead reads your email, effortlessly track every interaction, and keep all your sales tasks organized in one place. Think of it as your trusty sales sidekick. Schedule a demo and let the Sales Hub work its magic for you.
From Tickets to Triumph: Service Hub Demo
Tired of not-so-great customer service? With Service Hub, you can give your customers an extraordinary experience, empower them to find solutions on their own, and build a tribe of loyal advocates for your business. Close more support tickets in one go and take your customer service game to the next level with Service Hub. Schedule a demo now and witness the magic for yourself!
From Chaos to Clarity: CRM Hub Demo
Tired of manual updates and always wondering about your sales pipeline's status? HubSpot CRM is here to save the day! Say goodbye to the boring tasks and hello to what truly matters. HubSpot CRM provides real-time visibility into your sales pipeline, so you can focus on the good stuff. Get a demo and get ready to be amazed by the magic of automation!
Optimize, Organize, Operate: Operations Hub Demo
Want to make your business operations smoother and take charge of your daily tasks? Look no further than HubSpot's Operations Hub! It's like having a personal assistant for your business, handling all the boring stuff so you can focus on what really matters. With its powerful tools, you'll be able to automate, organize, and optimize your operations effortlessly. Book a demo now and take your operations to the next level!
What HubSpot has to say about webdew

webdew has been a HubSpot agency partner since 2017 and helped so many Hubspot clients in different regions to leverage better HubSpot tool and grow better.
They also come up with amazing training program that I am sure will help many other clients to fully utilize the HubSpot platform efficiently.
I have referred so many clients to webdew for HubSpot development and HubSpot management, also I have heard so many good feedback about him. Danish and team keep up with good work and well done.

Chiara Gaviraghi
Channel Consultant @ HubSpot
Unlock the full potential of HubSpot with our FREE expert-led demo call.
Don't miss out on this opportunity to unlock the full potential of HubSpot and witness the magic firsthand. Schedule your demo call now and don't let this chance slip away!
Frequently Asked Questions
What is a HubSpot demo?
A HubSpot demo is a personalized walk-through of the HubSpot platform, provided by a trained expert. It's an opportunity to learn about the features and capabilities of this all-in-one business tool and see how it can be tailored to fit your specific business needs.
How long is a HubSpot demo call?
A HubSpot demo call typically lasts around 30 minutes. However, the duration may vary depending on the specific needs of your business.

Is there a cost for a HubSpot demo call?
No, there is no cost for a HubSpot demo call provided by Hubdew. It's a complimentary service offered to help businesses understand the full capabilities of the platform.
What should I expect during a HubSpot demo call?
During a HubSpot demo call, you can expect a personalized walk-through of the platform, tailored to your specific business needs. The expert will demonstrate the features and capabilities of HubSpot and answer any questions you may have.
Why choose Hubdew for your HubSpot demo?
At Hubdew, we're on a mission to share our HubSpot expertise with you. We're not just experts; we're enthusiastic users of the platform. Our free demo is designed to offer you a personalized and enlightening journey into the world of HubSpot. Whether you're a newbie or a HubSpot pro, our demo is your golden ticket to unlock the full potential of the platform for your business. Join us, and let's explore the endless possibilities together!
What can you expect from a HubSpot Demo with Hubdew?
At Hubdew, we like to get to know your business really well before showing you the demo. We'll talk to you about your company, what you want to achieve with HubSpot Sales/Marketing tools, and how you currently connect with potential customers. With this information, we'll give you personalized advice. We'll suggest which HubSpot tools and plans are best for your business and teach you how to use them effectively. This demo is a great opportunity to fully understand how HubSpot can benefit your business.
Are there any prerequisites for the demo call?
No, there are no prerequisites for the demo call. However, it may be helpful to have an understanding of your current sales and marketing processes and any specific goals you hope to achieve with HubSpot.
Client Success Stories
Get firsthand insights into client feedback and success stories, showcasing how we've made a difference in their businesses.
Blogs & Resources
Stay ahead in the world of HubSpot with our valuable content!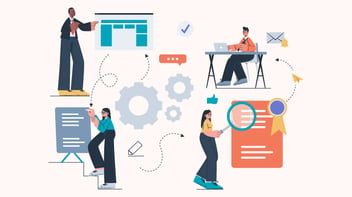 Welcome to the world of automated legal workflows! As a law firm, you...
Some additional information in one line